Those of us who have worked in the service industry are very familiar with the 10-5 rule. This favorite of overzealous managers, inserted into every training session and employee handbook states that at 10 feet you make eye contact with a guest or customer, and at 5 feet you acknowledge them. Then a brief conversation ensues, the employee exchanges whatever good or service is being sold for money, and the encounter is over. Have a nice day.
While walking down a city street alone, a sort of reverse 10-5 rule exists. No matter the time of day or what you're wearing. It goes like this: I am walking alone and see a man walking towards me at 10 feet. Maybe instead of looking straight ahead into the distance, I move my eyes to the ground. I slump my shoulders slightly, so maybe my breasts aren't as prominent. I begin to analyze the width of the sidewalk; am I too close to him? I can't move too far away, as I might risk offending him. And if I'm too close, well, that may very well be an invitation for something. At 5 feet, I take a small breath and one of two things happens: nothing at all, which I consider a small victory or…something. Something like a kissing sound or a variety of sexually explicit comments. At which point I left with two options: pretend that I don't hear a damn thing, or risk an additional conversation, which in the past has been anything from a choice silent hand gesture and specific curse words to an extended conversation on mutual respect and common courtesy. It's usually the curse words, which I wouldn't recommend for those who can't take what they dish. And the encounter is over. Have a nice day.
And most of us have to deal with this on a daily basis. We change our routes. Maybe I'll take a left down this street so I don't have to walk past That Store or That Bus Stop or That House. Maybe I'll just take a cab when walking wouldn't take much longer. Maybe I should have worn something else. Maybe I'll just stay in tonight. There are a lot of "maybes".
But let's forget about all of the choices, those maybes, that we know have nothing to do with harassment but we still think about anyway. I was in Dupont Circle at 3:30 pm yesterday and was sexually assaulted while walking. In my hometown, in a nice neighborhood, in broad daylight, in public. I'm a city girl; I walk fast and have rules. A man pulled up behind me on his bicycle and reached up my skirt. He put his finger into my vagina through my underwear. He laughed and biked away. That was it. No 10-5, no catcall. No exchange. I didn't see his face. At least when I was robbed at gunpoint I knew who to look for on the street.
The cops came within minutes and were exceedingly supportive. I went on with my day: I had lunch with my mom and then drinks with some of my closest friends well into the evening. I received many messages of support and encouragement, and I'm really grateful to have such wonderful people in my life. But one thing that has bothered me is referring to what I did as "brave." I was simply walking while female. I guess I didn't realize what a battle it still is out there and how much work we still have to do.
G/O Media may get a commission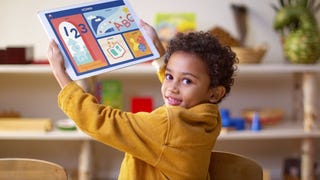 30-Day Free Trial
Homer Learn & Grow Program
---
This piece originally appeared on Collective Action for Safe Spaces. CASS fights street harassment in America's capital by empowering Washingtonians to speak out against gender-based public sexual harassment and assault. Follow Collective Action DC on Twitter. Republished with permission. Liz Gorman is a photographer from Washington, DC. You may follow her on Twitter.
Image via SVLuma/Shutterstock.