Rumors of a bikini ban on the Indian resort area of Goa have been greatly exaggerated. Unfortunately, the truth — including victim-blaming and the assault of a child — seems even more disturbing.
Ana Gasteyer Satirizes the Girl Boss in 'American Auto'
Last week, Goan tourism authorities announced they would ban women in bikinis from their official advertising, although private organizations are still free to do so.
The apparent context is a series of high-profile rape and sexual assault cases, most recently one involving a nine-year-old Russian girl. A local politician who allegedly drugged and raped another, 25-year-old Russian in December was initially protected by police and absconded, but after an international uproar has now been apprehended.
The decision to ban bikinis from Goa's official tourism advertising seems like a misplaced reaction to high-profile cases that involved foreign women (and at least one child) being attacked by local men. But doubtless there are cases of sex tourism — on various points along the spectrum of coercion — that involve Goan women but don't command the same international publicity.
G/O Media may get a commission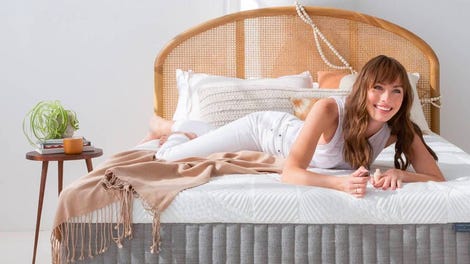 Sleep Sale
Sleep Sale - Brentwood Home
But judging from the quote deputy director of tourism Pamela Mascarenhas recently gave New Delhi's Mail Today, that argument is a bit of a red herring, particularly at a destination that, according to local press, has for decades encouraged its image as a hedonist, bohemian haven:
"You can't blame the locals; they have never seen such women. Foreign tourists must maintain a certain degree of modesty in their clothing. Walking on the beaches half-naked is bound to titillate the senses."
The minister also said of a British rape and murder victim, "What was she doing with those men in the wee hours?"
Another tourism official told Global Post, "There is a degree of cultural shock for our native population when they see certain type of dressing."
Discouraging the suggestion that women's bodies are on the list of tourism attractions for sale is a good thing. Next up: Ensuring the protection — and ending the further victimization — of the other women who visit.
Goa Bans Bikinis, But Only In Tourism Ads [Times Of India]
Goa's Tourism Boss Links Sexual Assaults To Bikinis [Global Post]
Nine Year Old Russian Raped In Goa [Hindustan Times]