In an effort to cash in on our nation's current hunger for "organic" foods, Wal-Mart is launching an extensive new line of organic products. The Wild Oats line (itself a former Whole Foods brand) will retail for about 25% less than equivalent products at more established organic grocery stores.
Via the Times:
"We're removing the premium associated with organic groceries," said Jack L. Sinclair, executive vice president of Walmart U.S.'s grocery division. The Wild Oats organic products will be priced the same as similar nonorganic brand-name goods.

...Instead of hitting the entire national market at once, Walmart will first introduce Wild Oats at 2,000 stores in the coming months, only half of its national footprint, and then roll it out to the rest of the country.

...Over at least the next few years, Walmart's move is likely to raise prices for organic ingredients, which are already going up because of fast-growing consumer demand. Organic food accounted for $29 billion in United States sales in 2012, according to the most recent data, the Organic Trade Association said. Ten years earlier, its sales were $8 billion.
But, the Times notes, in the long run, Wal-Mart's involvement in the organic food industry could increase supply and bring organic prices down across the board. As for right now, though, organic products remain impossibly costly for most American consumers.
The online grocery retailer Fresh Direct has an extensive selection of organic products among its overall merchandise mix. A five-pound bag of conventional russet potatoes was selling for $3.99, while its organic counterpart was $5.99. A box of Driscoll's organic strawberries is usually a dollar more than its conventional brethren.

"We offer both, but more often than not I try to push people into the organic because I think it's better," said David McInerney, a founder of Fresh Direct. "You can compress the margins on organic to make it more attractive."
G/O Media may get a commission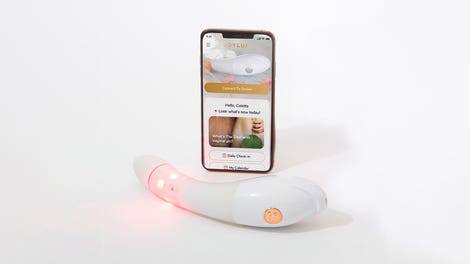 $50 Off
Joylux vFit Gold Device
Yes, it's tempting to argue that everyone "should" only eat organic food, but that's simply not a possibility for most human beings on the earth (like, say, Wal-Mart employees). Some people need cheap food, and I hope this push to capitalize on higher-end products doesn't leave actual poor people with fewer and fewer affordable options. While we're making organic foods slightly less expensive for those who can most likely already afford them, could we also work on giving low-income people access to fresh, healthy foods, plus, I don't know, a living wage so they might actually have time to go home and cook said foods instead of working multiple jobs and still living below the poverty line? JUST A THOUGHT. Not that any of that is within Wal-Mart's purview, of course. It's just a thing that we can think a thought about when we're nitpicking over the price of duck bacon at Whole Foods.
Anyway, this seems like a good time to remember that "organic" doesn't necessarily mean "better for you," "better for the environment," or "not produced by giant gross corporate factory farms." Oh, and "natural" pretty much doesn't mean anything at all.
Oh, and Wal-Mart blows.