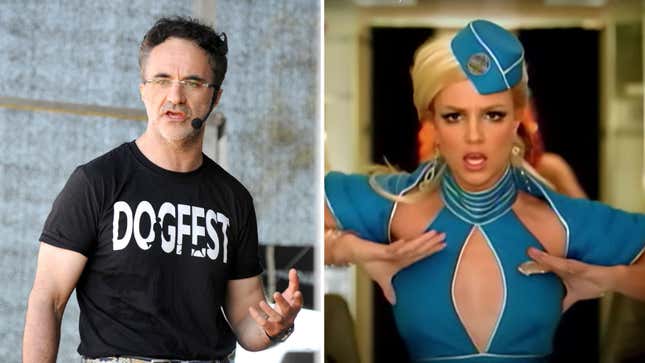 On Thursday, a weekly UK-based celebrity and pop music newsletter known for trafficking tidbits of—sometimes unsubstantiated—gossip about the entertainment industry sent a corner of the internet into chaos when it revealed an unlikely subject for an iconic dance-pop hit. "The man who inspired the Britney Spears track Toxic was someone that the song's co-writer Cathy Dennis had been dating in the early 2000s, who broke up with her in 2003: Noel Fitzpatrick," Pop Bitch (yes, that's the newsletter's name) published. Dennis, you might know, is the British singer-songwriter who released the equally classic dance smash "Touch Me (All Night Long)" herself in 1990.
Zach Shallcross Struggles to Watch Himself 'Dancing Terribly' on 'The Bachelor'
Now, who the fuck is Noel Fitzpatrick, and what power must he possess to inspire a Grammy-winning song? The short answer is: An Irish veterinarian who has his own television show, The Supervet, wherein he just...does his very ordinary job and...treats ailing animals? Regardless, Fitzpatrick has achieved something of celebrity status across the pond, regularly appears on the morning talk show circuit, and sometimes—per the recirculating rumor—inspires the tracks of international superstars.
Apparently, Fitzpatrick and Dennis—clearly a very prolific songwriter who's also behind other chart-toppers like Kylie Minogue's "Can't Get You Out of My Head" and Katy Perry's "I Kissed a Girl"—briefly went steady in 2003, the same year she wrote "Toxic" (which was offered to Minogue first, then to Spears, for what it's worth). While we're here, let's just revisit some of those lyrics, shall we?

With a taste of your lips, I'm on a ride

You're toxic, I'm slippin' under

With a taste of a poison paradise

I'm addicted to you

Don't you know that you're toxic?

And I love what you do

Don't you know that you're toxic?
Yeah, this guy—who reportedly met Dennis when her labrador required treatment—really looks like he should wear a warning.
The vet has since been asked whether it was him that served as the subject for the song, to which he cheekily replied: "You may have to ask Kylie Minogue whether 'I Can't Get You Out Of My Head' is written about me." Oh...my god?
---
In other formerly toxic love news:

Mary Louise Parker says she's happy for ex Billy Crudup and Naomi Watts who just tied the knot on June 10.
"I honestly, of course, wish them every happiness because that's my son's father," Parker told the Guardian. "I'm happy they found each other."
If you didn't know, Parker wrote about their breakup—Crudup infamously left a very pregnant Parker for his then-24-year-old co-star, Claire Danes—in her memoir, excerpted by Jezebel in 2015.
"I am pregnant and alone. It hurts to even breathe," she reflected of the time in Dear Mr. You.
Well, Parker might be the bigger person, but I'm not. Dear Mr. Crudup: You still suck!
---