A raft of one-namers nabbed the six covers of V's first swimsuit issue. So how did Kate, Claudia, Daria, Eva, Naomi and Gisele come out looking so bad?
V made the impossible possible by picking random crops of pictures from the Mario Testino editorial inside to use as the cover shots. After the figures were very approximately shorn of their actual backgrounds.
Which rather explains how Daria looks like she was traced with an x-acto and stuck on that lurid backdrop with paste. Is this a conceptual gesture? About how people cut pictures out of magazines and pin them on their walls? A nod to Henry Darger and collage? Is this intentional? Or just terrible, terrible Photoshop?
G/O Media may get a commission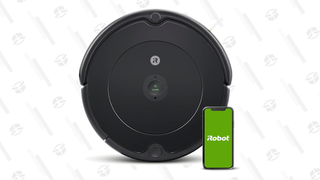 35% Off Black Friday Deal
iRobot Roomba 694 Robot Vacuum
Naomi's cover, to my eye, is actually the best — her baseline level of camp seems just about right for the proceedings.
Kate on the other hand, looks awkward.
Look, I liked this picture much better when it was on the cover of Purple Fashion two months ago.
Half of these poses — Daria's, Naomi's — are poking fun at the cheesecake factor inherent in most swimsuit spreads. And the rest — Claudia's, Kate's — are high-fashion awkward. So what were the criteria for culling the cover shots from the editorial?
Eva Herzigova: channeling Lindsay Lohan channeling Marilyn Monroe.
Seriously, V: what happened? The issue is out next Wednesday, May 6th. I can't say I'm exactly waiting with bated breath.

Fierce Kate Moss Leads Revival Of The Supermodels As They Stalk Back Into The Spotlight [Daily Mail]
Viva Gisele [IMG Blog]