Admit it: You had at least one encounter with a tween terror classic that left you scared shitless, cowering under the covers. Or at least very, very jumpy in the dark. This Halloween, Jezebel will be celebrating our adolescent nightmares with a special Spooky Scary YA Book Club. Help us pick what to read!
After much deliberation, we've narrowed the options down to 10. They're all throwbacks, mostly the story of thing you might've checked out of the library at 12. They're also written specifically for kids and #teens—"the copy of Steven King's It I smuggled off my cousin's bookshelf" does not count. Here are the contenders, with descriptions taken from Amazon. At the bottom, you will find a poll; you've got through the weekend to vote. Pick your favorites, and CHOOSE WISELY.
"Give Me a D-I-E" Newcomers Corky and Bobbi Corcoran want more than anything to make the cheerleading squad at Shadyside High. But as soon as the Corcoran sisters are named to the team, terrible things happen to the cheerleaders. The horror starts with a mysterious accident near the Fear Street cemetery. Soon after, piercing screams echo through the empty school halls. And then the ghastly murders begin . . . Can Corky and Bobbi stop the killer before the entire cheerleading squad is destroyed?
A spring night, soft moonlight, five beautiful Prom Queen candidates...dancing couples at the Shadyside High prom....these should be the ingredients for romance. But stir in one brutal murder - then another, and another - and the recipe quickly turns to horror.
G/O Media may get a commission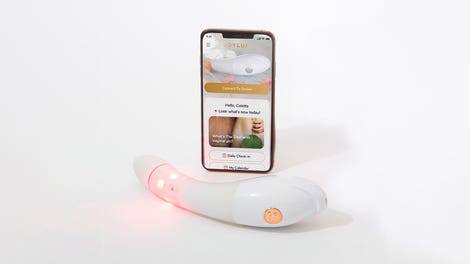 $50 Off
Joylux vFit Gold Device
The girls at Modesta High School feel like they're stuck in some anti-feminist time warp-they're faced with sexism at every turn, and they've had enough. Sponsored by their new art teacher, Ms. Stark, they band together to form the Daughters of Eve. It's more than a school club-it's a secret society, a sisterhood. At first, it seems like they are actually changing the way guys at school treat them. But Ms. Stark urges them to take more vindictive action, and it starts to feel more like revenge- brutal revenge. Blinded by their oath of loyalty, the Daughters of Eve become instruments of vengeance. Can one of them break the spell before real tragedy strikes?
Nore Roberts didn't ask for a new life, but now that her mom is gone and her dad is newly married, she has to settle in at Shadow Grove, the old Civil War mansion her stepfamily calls home. When she meets her stepmother, Lisette, Nore is shocked by her youth and beauty that gives her chills- and a hint of something sinister. There's hope of becoming friends with her stepbrother and sister, until Nore realizes they're hiding something. When she begins to feel like the target of a deadly plan, Nore starts digging into her stepfamily's past. The skeletons in their closet are more real than she ever imagined. Can Nore expose her stepmother's dark secret before an old and evil magic swallows her up?
Scary Stories to Tell in the Dark, Alvin Schwartz
This spooky addition to Alvin Schwartz's popular books on American folklore is filled with tales of eerie horror and dark revenge that will make you jump with fright.

There is a story here for everyone — skeletons with torn and tangled flesh who roam the earth; a ghost who takes revenge on her murderer; and a haunted house where every night a bloody head falls down the chimney.
Twelve-year-old Molly and her ten-year-old brother, Michael, have never liked their seven-year-old stepsister, Heather. Ever since their parents got married, she's made Molly and Michael's life miserable. Now their parents have moved them all to the country to live in a house that used to be a church, with a cemetery in the backyard. If that's not bad enough, Heather starts talking to a ghost named Helen and warning Molly and Michael that Helen is coming for them. Molly feels certain Heather is in some kind of danger, but every time she tries to help, Heather twists things around to get her into trouble. It seems as if things can't get any worse.

But they do — when Helen comes.
The mirror looked ordinary. It had a heavy gold frame and leaned against the wall in the attic. But when Lucy firstlooked into the mirror, a strange thing happened. Another girl's face appeared beside hers, laughing. Whirling around in surprise and alarm, Lucy saw a girl wearing a long dress, a pinafore...and a sly triumphant look on her face. Also, the attic had disappeared and another room had taken its place - a room that belonged to the past. The girl in the mirror was Alice, and she had lived a hundred years ago. Lucy found she could visit her any time she looked into the mirror. At first, it was fun to enter the past and see how Alice had lived. But, gradually, the chill of terror took over. Alice's friendliness turned into a sinister desire for power and control over Lucy. And Lucy found it harder and harder to resist being trapped in the past with Alice forever!
The Silent Scream: Nightmare Hall, Diana Hoh
There's a reason why they call it Nightmare Hall . . .

Jessica Vogt gets a rude awakening when she moves into Nightingale Hall and learns that the previous spring, a student named Giselle hanged herself from a light fixture—in Jess's new room. Campus officials pronounced it a suicide. But did Giselle really kill herself? Or was it a setup?

Strange things are happening to Jess. One night, she is awakened by a terrifying scream. A photo taken of Jess and a classmate reveals a third person in the shot—a girl with long, pale hair and a sad face. Is Giselle trying to communicate with Jess? As Jess moves closer to what really happened that fateful night, someone starts targeting her. Is she being haunted by a ghost, or is there a killer on the loose?
Returning home one day, Roxanne and Pepper find their small town—and surrounding towns—empty. Finally they find three other teens and realize that all five are each connected through the death of Betty Sue, the plain, shy girl who committed suicide only three months before. Betty Sue had written stories about them, stories of hate, revenge, and death . . . in a dead world.
Anne McFarland is dead, and her best friend, Sharon McKay, stands accused even though no body has been found. Nevertheless, the prosecution is almost certain of victory, and Sharon must prove that her friend committed suicide—and unravel the vengeful scheme of an obsessed teenager.
Once we've narrowed the list down to five, staffers will acquire copies and we'll be posting a series of rereads the week of Halloween. (If an author ends up in the final five twice, we'll do the most popular.) Please join us!