Beyoncé, as we ALL know, is staring into our souls from the cover of Vogue's September issue, a highly coveted position that most female celebrities would give an arm and a leg for (the other arm and leg are then edited out through photoshop). Not Beyoncé, though! She's a woman who knows her worth, her power, and exactly what she owes Vogue—i.e. not a goddamn word.
From the Huffington Post:
Beyoncé has not answered a direct question in more than a year, and Vogue's September issue was no exception.

For the year's biggest issue of the fashion magazine, Beyoncé appears in an editorial spread photographed by Mario Testino and in accompanying videos on Vogue.com, but she does not utter a single word for the cover story written by Margo Jefferson.

"It was definitely posed to me as … call it a think piece, if you want. I had no contact with her camp," Jefferson told the New York Times. Words are wind for Mrs. Carter: "She has to be studying how effective her interviews have been so far. She may have decided that they do not contribute as dazzlingly to the portrait of Beyoncé as the other stuff. It's a perfectly reasonable decision."
YEAH, FUCK YOU, VOGUE. You'll take what Beyoncé has to offer and you'll say, "THANK YOU."
[HuffPo]
---
G/O Media may get a commission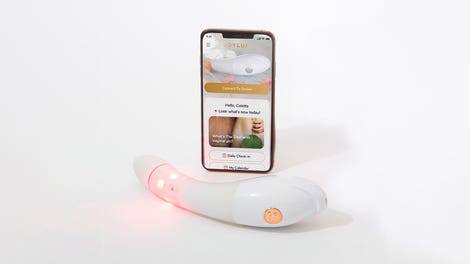 $50 Off
Joylux vFit Gold Device
Josh Duggar—that morally repugnant Porky Pig of the Quiverfull movement—has apologized to his wife and family after Gawker's Ashley Feinberg unearthed his Ashley Madison accounts.
"I have been the biggest hypocrite ever. While espousing faith and family values, I have secretly over the last several years been viewing pornography on the internet and this became a secret addiction and I became unfaithful to my wife," he wrote on his family's blog.

The statement continues:
I am so ashamed of the double life that I have been living and am grieved for the hurt, pain and disgrace my sin has caused my wife and family, and most of all Jesus and all those who profess faith in Him.

I have brought hurt and a reproach to my family, close friends and the fans of our show with my actions.

The last few years, while publicly stating I was fighting against immorality in our country I was hiding my own personal failures.

As I am learning the hard way, we have the freedom to choose our actions, but we do not get to choose our consequences. I deeply regret all the hurt I have caused so many by being such a bad example.

I humbly ask for your forgiveness. Please pray for my precious wife Anna and our family during this time.

Josh Duggar
Dear Josh, I don't forgive you. P.S. You and your family are garbage. [The Duggar Family]
---
Are you fortunate enough to have forgotten that strange period of time during which Marilyn Manson divorced Dita Von Teese and started dating 19-year-old Evan Rachel Wood, only to have Evan start dressing EXACTLY like Dita? Well, poor Evan Rachel Wood is not that lucky and has to remember the whole thing.

"I thought I was in love," she told The Edit. "I wasn't doing it to prove a point or be rebellious. I wanted to break a mold for sure — I knew I was edgier, more alternative, and weird. And [Marilyn] was just what I needed, because I felt really free with him. And that freedom was attractive." [US Weekly]
---
---
Contact the author at madeleine@jezebel.com.
Images via Vogue, Getty and TLC.