It probably won't surprise you to learn that R.J. Cutler's Vogue documentary, The September Issue, was Anna Wintour's idea. Ms. Wintour admitted so in a rare Q&A at Sundance over the weekend.
In a video of the event, Wintour says: "R.J. came to us originally with the idea of another documentary; creating something around the Costume Institute Ball that we do every year, but the idea of doing a documentary about the September issue is something I've always wanted to do."
R.J. Cutler, who directed The War Room, says he is "thrilled" that "Anna chose me." And he calls the pace of Vogue "a marathon that moved at the pace of a sprint, constantly." But: According to Wintour, Vogue's creative director, Grace Coddington, is the real focus of the film. And Fox 411's Roger Friedman agrees, writing:

…The real star of the film is Grace Coddington, [Wintour's] number 2 editor and unsung hero of Vogue for the last two decades. Now a raven haired beauty in her 60s, Coddington was a British supermodel for years before a car accident disfigured her face and cut her career short. She is a remarkable figure, and emerges as the heart and soul of an organism that is otherwise devoid of humanity.

Wintour is not stupid. Far from it. She is wise enough to step aside and let Coddington become the sympathetic center of "The September Issue" while she, Wintour, does the dirty work.
The real question, of course, is: Is the film worth watching? Salon's Andrew O'Hehir thinks so, deeming it "Delicious." He adds:

We travel to haute-couture shows and photo shoots, private breakfasts with major advertisers, and even into Wintour's office for her tense aesthetic and financial standoffs with Grace Coddington, the onetime swinging-London model who is now Vogue's creative director.

I'm sure this movie will appeal most strongly to fashion buffs (and Vogue's September issue usually sells about 13 million copies) but I found it completely addictive and haven't even glanced at a fashion mag in years. Whether or not you think what they do is meaningful, Cutler captures the intense passion Wintour and Coddington bring to their work.
G/O Media may get a commission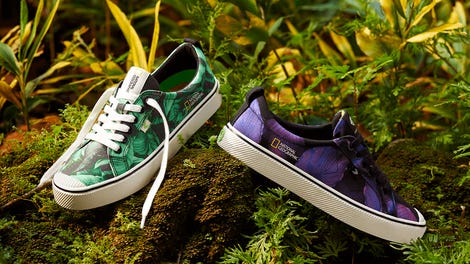 New New New
Cariuma + National Geographic
And! Those of you hoping for a delightfully evil Cruella De Vil or Devil Wears Prada-esque performance from Wintour will not be disappointed, according to Roger Friedman: "She's abrupt, chilling, and cold to those around her. Warm and fuzzy? Not a chance." Plus! Employees apparently say things like "Anna doesn't want that, I'm going to get fired, I'm going to kill myself," Fashionista reports. And André Leon Talley "attempts to play tennis in white pants and a polo t-shirt with a LV monogrammed scarf/towel/blanket around his shoulders, an LV monogrammed tennis racket cover, an LV monogrammed water bottle holder and an LV monogrammed case."
Of course, what others believe this film really represents is the end of an era. The documentary's center, the giant, phone-book sized September 2007 issue — chock-full of ads and editorial — ended up being the largest in the Vogue's history, notes AdAge. Ad pages were down 12% in 2008, and 2009 could be worse. Will the film end up being a historical document of what AdAge calls "the Last Days Of Luxe"?


A snippet of the Sundance Q&A with Anna Wintour and R.J. Cutler is embedded below.



CR First: Anna Discusses Her Own Documentary in Utah! [Fashion Week Daily]
The Devil Really Wears Prada [Fox 411]
Your Sundance Gigolo Report [Salon]
Anna Wintour: I Am No Office Monster [Gawker]
Following Anna Wintour Through Last Days Of Luxe [AdAge]
Sneak Peek II: The September Issue [Fashionista]