Nothing will set this post up better than the truth, so here it is: Vogue thinks Gigi Hadid and Zayn Malik are gender fluid because sometimes they wear each other's clothes.
In an article titled, "Gigi Hadid and Zayn Malik Are Part of a New Generation Embracing Gender Fluidity," writer Maya Singer opens describing Virginia Woolf's 1928 novel Orlando, asserting that a passage from it "could easily be mistaken for a manifesto posted yesterday on Tumblr." (Sure, if you have never read anything before.) She discusses Jaden Smith modeling womenswear, Pharrell Williams wearing pearls, Evan Rachel Wood wearing a tux, Young Thug being Young Thug. "This gender-bending approach to fashion has begun to achieve critical mass in pop culture and on the catwalk," writes Singer, like the '80s never happened—Prince never donned lace, heels, and eyeliner, George Michael never rocked pearls and leather, Annie Lennox never wore her hair cropped and a suit, Boy George was always, unequivocally in his presentation, a boy. (Eventually in the piece, she does admit that Prince and David Bowie did, in fact, happen.)
And then we get to the money shot:
This new blasé attitude toward gender codes marks a radical break. Consider the scene one recent morning out in Montauk, New York, where the photos accompanying this story were shot: Gigi Hadid and Zayn Malik snuggle in interchangeable tracksuits as, nearby, Hadid's younger brother, Anwar, rocks back and forth on a tire swing, his sheer lace top exposing scattered tattoos. For these millennials, at least, descriptives like boy or girl rank pretty low on the list of important qualities—and the way they dress reflects that.

"I shop in your closet all the time, don't I?" Hadid, 22, flicks a lock of dyed-green hair out of her boyfriend's eyes as she poses the question.
Matching tracksuits? If that's the case then I do believe Waiting for Guffman's Ron and Sheila Albertson invented the concept of gender fluidity:
A little more about the free and unclassifiable Gigi and Zayn:
"I shop in your closet all the time, don't I?" Hadid, 22, flicks a lock of dyed-green hair out of her boyfriend's eyes as she poses the question.

"Yeah, but same," replies Malik, 24. "What was that T-shirt I borrowed the other day?"

"The Anna Sui?" asks Hadid.

"Yeah," Malik says. "I like that shirt. And if it's tight on me, so what? It doesn't matter if it was made for a girl."

Hadid nods vigorously. "Totally. It's not about gender. It's about, like, shapes. And what feels good on you that day. And anyway, it's fun to experiment. . . ."
G/O Media may get a commission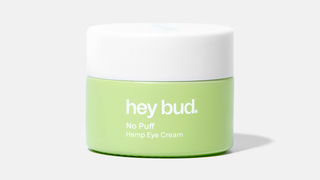 15% off
Hey Bud - No Puff Hemp Eye Cream
Yes, it's so much fun to experiment. Label vaguely androgynous fashion "gender fluidity"! Why not? Mix things up—literally! You can always take your boyfriend's boxers off and wear them as a cape!
Is there any doubt that standards in terms of gender-appropriate apparel are relaxing? No way, that is clearly happening, and there are examples in Singer's piece that speak to it. In fact, she interviews actual people who identify as gender fluid, though their presence in the piece is obscured in the service of making Gigi and Zayn look edgy.
Which brings us to another question: Is dabbling with gender presentation different than asserting gender identity (the latter of which being the umbrella that gender fluidity falls under)? You bet your Anna Sui T-shirt it is!
Marc Jacobs shows up late in the piece as a voice of reason:
"These kids—I'm not sure they're any different from the people I saw at Danceteria or Mudd Club in the eighties," Jacobs says. "The difference is that back then, the expression—extreme looks, cross-dressing, what have you—was hidden away in a speakeasy or a club. Today, thanks to the Internet, that culture is widely exposed."
Right, that makes sense. The article could have been just that. But then, it wouldn't have been an article.
Update: A Vogue spokeswoman emailed this to Jezebel:
The story was intended to highlight the impact the gender-fluid, non-binary communities have had on fashion and culture. We are very sorry the story did not correctly reflect that spirit – we missed the mark. We do look forward to continuing the conversation with greater sensitivity. – A Vogue Spokeswoman