Vivienne Westwood sat down with the New York Times for an interview and, my God, did she ever let loose. Westwood found time to criticize her ex Malcolm McLaren ("very messed up"), his widow ("that woman sees everything with a distorted point of view"), America ("an isolated territory"), the Met ("I was very cross with the Metropolitan Museum for not taking my retrospective"), fashion magazines ("mostly, I think they are rubbish"), and fashion itself ("fashion has become so whatever.") But Dame Viv was just warming up for her biggest dis of all:
You must love our first lady, who is famous for recycling her clothes.

Don't talk about her. It's dreadful what she wears.

What?

I don't want to talk about it. Really, I can't. She's a very nice looking lady, but it's a nonstarter regarding clothes that suit her. Jackie Kennedy was a different matter altogether. It just has to suit her and be something that makes a human being more glamorous. That's what fashion is there for. It's there to help, not just to make you look more conservative.
The interview also includes the editor's notation: [A lengthy aside about Climate Revolution.] Obviously. [NYTimes]
---
Prada sent some thigh-high boots to Rihanna, who promptly posted a photo of herself wearing them and...not much else. It has been "liked" more than 306,000 times, which basically means it's already gotten more attention than most seasonal ad campaigns. [Instagram]
---
G/O Media may get a commission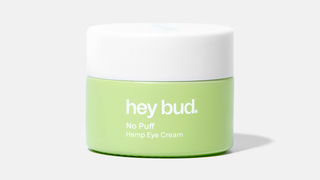 15% off
Hey Bud - No Puff Hemp Eye Cream
Feast your eyes on some photos from the Museum at the Fashion Institute of Technology's exhibition on footwear. "Even many of the oldest surviving examples of footwear — some of which were worn more than 5,000 years ago — reveal an emphasis on design, as opposed to mere function," writes co-curator Colleen Hill. [T]
---
TLC is not renewing What Not To Wear. The upcoming tenth season will be the show's last. [LATimes]

The latest from the Macy's/Martha Stewart/J.C. Penney lawsuit: the judge in the case is considering whether to extend the preliminary injunction against J.C. Penney selling any of the Martha Stewart-branded homewares pending the resolution of the suit. He also has to rule on whether J.C. Penney may rebrand those products, which were designed by Martha Stewart's company, under its own label and sell them. Because this is a bench trial, the judge will also decide the contract disputes at the heart of the lawsuits. "I've been thinking about this case," he said yesterday. "I may throw something in there that will put a spin on this...and have people scratching their heads." Ongoing. [WWD]

The Times smelled Everything, the perfume-of-perfumes concocted by the artists Lernert and Sander, the same folks who gave us the hypnotic 365 days of makeup video. Everything is made of every perfume released to the public in the year 2012 that the artists could obtain — some 1400 scents in all. The newspaper reports:

It smelled, at first whiff, of strawberries mixed with salt, along with hints of baseball mitt and hair spray. And tuberose, yes. And licorice and fresh paint. And musk and rotten peaches and honeysuckle and basil and soap.

It was awful.

[NYTimes]

Amazon is unveiling its first monobrand online store with the Derek Lam diffusion brand 10 Crosby. Competitors like Yoox make a lot of money running monobrand stores for designers, and Amazon — which is making a big push into fashion retail — wants a piece of that pie. [WWD]

According to rumor, Mert Alas and Marcus Piggott are shooting Kate Moss for the cover of the 60th anniversary issue of Playboy. [NewNowNext]

Customs officials in Los Angeles seized a shipment of counterfeit Hermès products with a retail value of $14.1 million. [WWD]

Nordstrom, Kohl's, and Macy's were rated the top three favorite retailers in a customer survey conducted by Market Force Information, which studies consumer behavior. Among the findings: "a liberal return policy is the attribute that matters most to consumers." Makes sense. [Racked]

Deborah Riley Draper, the director of a documentary about the Grand Divertissement à Versailles of 1973 — when a group of young American fashion designers squared off against some of the biggest names in the business, all French, and won — says that the modeling industry has become less racially diverse since that event. All of the American designers used black models, thereby sparking a vogue for models of color. As we all know, runways and magazines today are overwhelmingly white. Draper explains:

"There was a shift in thinking: 'Let's make them look the same so we can let the clothes stand out.' In that sameness, you lose a lot of flavor. The '70s was about experimentation, it was about self-expression, it was about freedom. It was about breaking the status quo, not just in fashion but in everything. Then, in the '80s and '90s things changed and people became a little bit more closed in terms of not wanting to be different or stand out. Once we become comfortable again with diversity — and not just race, but diversity of thought, which we are going to have to in this country — I think you'll see that again and I think you'll see a rainbow of girls on the runway."

[Racked]

Today in financial fashion news, private equity firm Sycamore Partners is acquiring Hot Topic for $600 million. [WWD]

The Qatari government's investment fund has upped its stake in Tiffany & Company from 8.7% t0 11.3%. [WWD]

The couple that has owned the Italian brand Krizia since its inception in 1964 are reportedly in talks to sell the business to an unidentified Saudi investor. [WWD]

Same-store sales at Gap Inc. were up year-on-year by 3% during the month of February. Same-store sales rose 6% at Old Navy, 2% at the Gap, and fell 5% at Banana Republic. [WWD]

And now, a moment with Frank Ocean, who popped up in the front row at a bunch of Paris fashion shows. Frank, what's up?

"I think fashion shows are great. The production that goes into doing these sorts of things is pretty inspiring and I just like to see beautiful things and beautiful people. All people are beautiful."

That's a lovely message.
"That's a lovely message! [laughs] I think we need more lovely messages in this lovely place. I'm throwing you off. I'm so awkward at interviews it's not even funny."

Ocean also reports that he loved "the noise that the sheer dresses made" at Givenchy. [Fashionista]