Vivienne Westwood, the last true punk, is very excited about Jeremy Corbyn's leading the Labour Party if not to landslide victory, then at least to the successful ruination of Prime Minister Theresa May's hopes of consolidating her power before embarking on her Brexiteering political agenda.
The Telegraph reported from her Spring/Summer 2018 men's show in London:
As the band Levent & Taylor struck up with lyrics that included 'the future is Corbyn', the reigning queen of all things renegade started off with a written mission statement berating corporate giants "who rape the Earth" and a culture of "greed, rot and propaganda".
She was even more clear speaking to AFP just before the show:
"This is wonderful. He really gives us hope," the 76-year-old Westwood, a founder of the punk movement in the 1970s, said of Corbyn, speaking shortly before her label's catwalk show at Men's Fashion Week.

"I do belive that it's the only party that is a strong opposition and they've got it right," she said.

She called Labour's leftist manifesto "brilliant" and underlined 68-year-old Corbyn's appeal to a younger generation inspired by his firebrand politics.
G/O Media may get a commission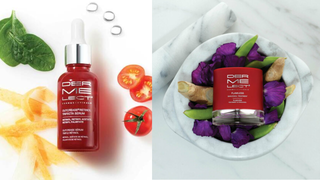 Save $19
Retinol Renewal Kit
"The main thing to realise is young people voted for him. Jeremy Corbyn won the future," she added.
The Telegraph notes that, "Westwood's modus operandi has been to take the codes of establishment and aristocratic dress and skewer them; this took form in the country tartans spliced and reworked on suits, and in the pinstripes ripped into jutting angular panels, and in suits seemingly yanked and pulled at odd angles."
Truly a fitting tribute to Jeremy Corbyn, who irritated a bunch of posh types in the 1980s by determinedly showing up to work at the House of Commons wearing a beige sweater knitted by his mother.