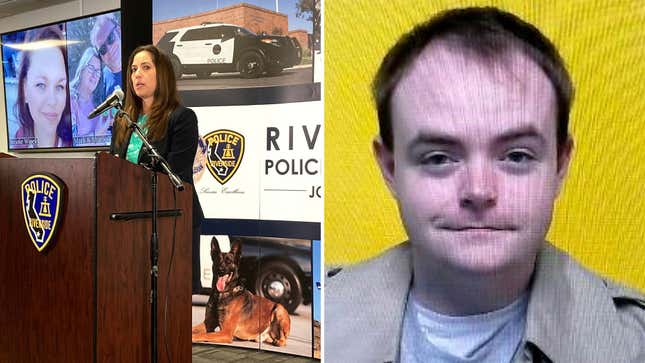 On Nov. 24, the morning after Thanksgiving, Austin Lee Edwards, a now-deceased 28-year-old former Virginia state trooper, drove 2,500 miles to "meet" a 15-year-old girl he'd been talking to online, posing as a teenager himself. When he arrived in her hometown of Riverside, California, Edwards killed her mother and grandparents before setting her house ablaze and kidnapping the girl.
This week, the Los Angeles Times reported that Edwards had mental health issues and had previously groomed other girls, yet was still hired by both the Virginia State Police and later, the Washington County Sheriff's Office, where he was employed at the time of the triple homicide. Though authorities initially announced that he was killed in a police shootout that same day, weeks later, the San Bernardino County Sheriff's Department said that Edwards' cause of death was, in fact, a self-inflicted gunshot wound with a service gun.
Disturbingly, just days before the murders, Edwards purchased a two-bedroom home in Virginia and used car tint to black out its windows, TMZ reported.
"It is shocking and sad to the entire law enforcement community that such an evil and wicked person could infiltrate law enforcement while concealing his true identity as a computer predator and murderer," said Washington County Sheriff Blake Andis just after the murders made national headlines. However, Edwards' "true identity" wasn't exactly hidden.
A memo written by Col. Gary Settle, the head of the Virginia State Police, and obtained by the Times shows Edward's hiring was due to a lot more than "human error," the department's previous excuse. On Dec. 30, Settle wrote that Edwards was up front with authorities about a 2016 psychiatric stay resulting from an incident in which he threatened his father's life and his own. Settle said that while the disclosure wouldn't have been an "automatic disqualifier," the background investigator who handled his application should've looked into it further.
According to court records, a judge also banned Edwards from possessing or purchasing firearms unless a judge to restore them after the stay. Evidence that Edwards was not legally permitted to possess or purchase a firearm would have been accessible to the Virginia State Police during the hiring process, the Times reported. Settle wrote that the investigator in possession of Edward's application was apparently "unaware" of the requirement to search for previous mental health orders. Later, when Edwards applied to the Washington County Sheriff's Office, authorities said state police didn't disclose "any troubles, reprimands, or internal investigations pertaining to Edwards" during the hiring process.
Edwards' questionable mental state wasn't the only red flag, however. The Times also reported that he had previously groomed other young girls online before he became a police officer. In 2014, Edwards—then 20—began corresponding with a 13-year-old girl he met on Omegle, an online platform that pairs strangers together at random. She told the publication they spoke several times a week via the platform and later on Skype for nearly two years. Edwards, she said, was well aware of her age, yet regularly asked her to undress for him (she declined) and would masturbate on camera. Edwards also told her how depressed he was, and often threatened to kill himself if she ever stopped speaking with him. The woman, now 21, recalled Edwards showing her his collection of firearms and knives.
"My first thought in the morning is you and I go to sleep at night thinking about you," he wrote on Jan. 13, 2016, according to messages shared with the Times. "It's so nice having someone that I can love knowing you love me back. You're the best thing in my life and I wouldn't trade you for anyone."
Eventually, Edwards strongly implied that he'd travel to see the girl, sharing the price of a plane ticket he could afford. The plan never came to fruition, and in 2016, she blocked him on Skype, after the incident that resulted in his psychiatric stay. For years Edwards attempted to contact her via alternate social media accounts. In 2020, he sent her a message on Facebook. She told him to never to contact her again and blocked his account. The following year, he was employed by the Virginia State Police.
"It's just crazy that he was able to become a cop with me knowing his mental health issues," the woman told The Times. "I don't understand how he got past everything because it was so prominent to me that he had so many issues just from talking to him in that time period."