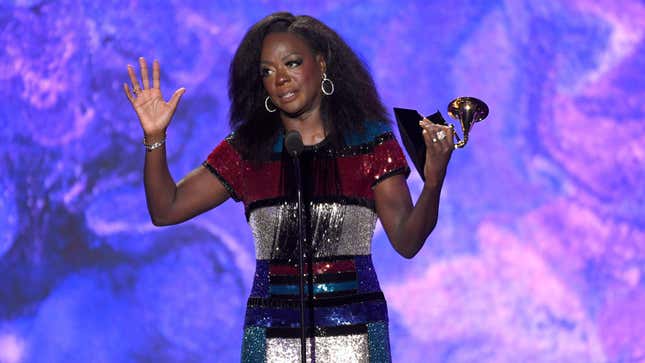 Viola Davis finally achieved EGOT (Emmy, Grammy, Oscar, and Tony) status on Sunday, winning the Grammy award for Best Audio Book, Narration, and Storytelling Recording for her memoir, Finding Me. She is now the third Black woman in history to EGOT, joining Whoopi Goldberg and Jennifer Hudson, and one of only 18 people in total who have won all four awards.
"I wrote this book to honor the 6-year-old Viola. To honor her, her life, her joy, her trauma, everything," the legendary actor said on stage, decked out in a striped sequin dress. "It's been such a journey. I just EGOT!"
Davis has been nominated for four Academy Awards, winning her first in 2017: Best Supporting Actress for her role in Fences. In 2015, she won the Emmy for Outstanding Lead Actress in a Drama Series for her role in How to Get Away with Murder. And before any of her big screen accolades, she won two Tony awards for her work on Broadway: Best Featured Actress in 2001 for her role in King Hedley II, and Best Leading Actress in 2010 for Fences.
Jennifer Hudson rose from American Idol fame to achieve EGOT status just last year when she won the Tony for co-producing A Strange Loop. She previously won Best Supporting Actress at the Oscars for Dreamgirls, two Grammys for Best R&B Album and Best Musical Theatre Album, and the Emmy for Outstanding Interactive Media for a Daytime Program for Baba Yaga in 2021.
Whoopi Goldberg, now a co-host on The View, became the first Black woman ever to EGOT in June 2002, when she won a Tony for Thoroughly Modern Millie. Goldberg had already won a Daytime Emmy for hosting AMC's Beyond Tara: The Extraordinary Life of Hattie McDaniel in May of that same year, the Oscar for Best Supporting Actress for her role in Ghost in 1990, and a Grammy for Best Comedy Album in 1986.
All I can say is: Imagine being remotely this talented. Congratulations to Davis on her well-deserved place in entertainment history.