The cotton candy poof of a Molly Goddard dress. Brocade bomber jackets. A high-necked leather jacket and the perfect stakeout shades. These were the outfits that made Villanelle's wardrobe on Killing Eve a star on its own.
Female assassin style tends to conjure up corny images of covert women in vinyl trench coats and thigh-high boots, but Killing Eve took the murderous and unavoidably cool Villanelle (played with terror by Jodie Comer) and made her a style icon. Being a sociopathic showboat, her wardrobe wasn't something to hide in; she always wore something witnesses to her murders would remember. But in the show's second season, Villanelle has to battle a very different opponent: ugly clothes. Very, very ugly clothes.
When the season starts, Villanelle has managed to slip away, again, from Eve Polastri's (Sandra Oh) grasp (or more specifically, the knife she stabbed her with). But she ends up in considerably less chic circumstances than her Parisian loft or the beautiful villas and dining halls she often finds herself in to murder powerful people. With a stab wound in her gut and nothing except the casual, bloodied clothes on her back, Villanelle has to crawl her way back to anyone who can help her.
And yet, clothes still manage to steal the show. In the first couple episodes of the second season some of the best moments come from Villanelle desperately trying to get by in, literally, whatever clothing she can scrap off the ground. She snatches a homeless man's jacket-turned-blanket off the streets, a cartoonish onesie from a child, and gross cardigans from a laundromat. When she eyes a pair of necessary white Crocs dotted with plastic flowers, Villanelle looks like she's about to cry, dipping her toes in and out before putting them on. All she needs to do is look inconspicuous here, and yet the shoes squeak like nails on a chalkboard with every step.
G/O Media may get a commission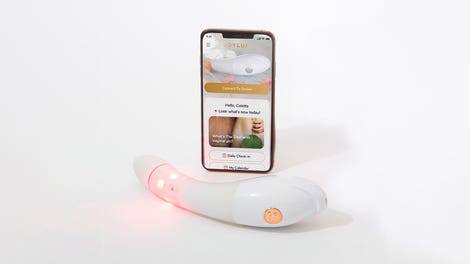 $50 Off
Joylux vFit Gold Device
It's a joy to watch Villanelle, who is menacingly capable at the most complicated murders, somehow struggle in the face of bad clothing. Running over an ex-lover with her car is no big deal, but the sight of an orthopedic shoe? The horror! The wardrobe change also gives viewers a chance to see an especially vulnerable Villanelle and how the roles between her and Eve have been reversed.

Clothing and beauty is often, literally, a weapon in Killing Eve, from poison-filled hairpins to deathly perfume. In the past Villanelle used nice clothes as a power play, sending Eve a new wardrobe as a sign of affection but also a reminder that she was one step ahead of her. But without her gorgeous clothes that allowed her to move seamlessly throughout the world, Villanelle is forced to play the powerless, dowdy victim to gain the goodwill of others for help. This time around, Villanelle is the one hunting Eve, whose resources to track down assassins are increasing. It was Eve who successfully found and wounded her main target, not the professional assassin who has consumed her life, and she's beginning to settle into her expert role with confidence as Villanelle flails.
At one point in the new season, Eve, consumed as ever with thoughts of Villanelle, opens up her laptop to see if there's been any news of her. When her husband wakes up, she quickly clicks over to an online shopping tab, browsing expensive dresses before he can see, which he finds surprising. "The blue one's sexy," he murmurs about a spaghetti strap dress, the kind of dress someone like Villanelle would wear.
Eve smiles and buys it.
---
Season 2 of Killing Eve premieres Sunday (April 7) on BBC America.