As couples across the nation frantically wrack their brains for something, anything, to give their significant others, there's likely to be a fair number of men sidling uncomfortably into Victoria's Secret stores in the coming days. Interesting to know: Vicki's sales strategy for them reportedly revolves around the assumption that their internal monologue while in the store is an urgent, endless GET OUT GET OUT GET OUT GET OUT.
That's according to a former sales associate who recently dished to Business Insider. She told the site that, at the Chicago-area store where she worked, she was trained to approach male customers differently:
"The general feeling about men is that they would buy anything in order to get out of the store as quickly as possible," the worker, who wished to remain anonymous, told us. "That means they would spend more money."
"Women are more value-oriented, and so we were encouraged to show them deals," she added. "Men would buy a couple of $50 bras without questioning us because they felt awkward." She said that, thanks to the sales pressure put on employees, this often resulted in a rush to reach any man who walked into the store.
It's not clear whether this is a policy at stores nationwide, or if some rogue Midwestern manager dreamed it up.
G/O Media may get a commission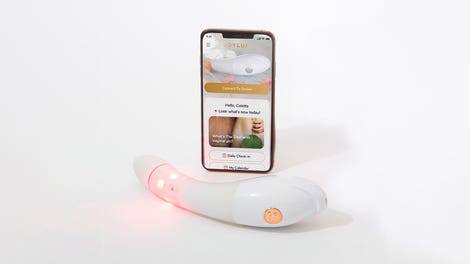 $50 Off
Joylux vFit Gold Device
Hey, memo to the dudes of America: Stop shopping at Victoria's Secret, especially if you're paying full price. There are better bras to be had for $50, where the three inches of padding doesn't get all lopsided and the underwire doesn't pop out. I don't care if you're literally shopping for a Victoria's Secret model—take your money elsewhere.
This does explain who buys those ludicrous lingerie get ups, though.
[h/t Time NewsFeed]
Image via Bryan Bedder/Getty Images