Friends, this is Ms. Candice Swanepoel, dressed as a Victoria's Secret Angel. She is reclining. And it seems the company has provided her with an extra leg-type thing to lie down on. That can't possibly be her knee, can it? Let's take a closer look.
---
This entire area is… weird. Her arm and her top leg do not seem to exist within the same space-time continuum. Her butt appears… enlarged. And that knee-thing doesn't even seem to be attached to her body. (click to enlarge)
G/O Media may get a commission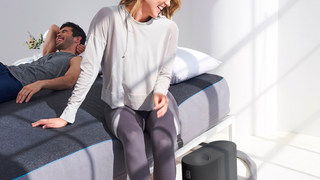 Eight Sleep Pod Cover
In another version of the ad, the leg looks like it's trying to slink right off the set.
Another quibble: While Ms. Swanepoel does have a large hip-to-waist ratio — a narrow waist which curves out to wider hips — something has gone awry on the right side of her body, below the bra. The line from bra to waist-crease is so perfectly straight it's like someone used a T-square!
Just for comparison: This is what Swanepoel's body actually looks like. Please note that her knees are attached to her legs.
VS Fashion Show: Unnatural Beauties [Photoshop Disasters]