The Tony Awards red carpet looked a leeeeetle different than it may have in recent years: it was filled to the brim with A-list models and fashion designers, so many their presence threatened to overshadow the theatre stars themselves. Why the sudden shift? Why, Anna Wintour, of course.
This year, Tony winning costume designer William Ivey Long conspired with Wintour to incorporate better fashion into the ceremony, a noble concurrent with our great fashion-and-Broadway town, but one that will go unappreciated until the Tonys are off CBS, which is the fifth day of a sample sale of television. Anyway, the result of this union was in fact some great fashion, though not everyone fared favorably.
Ashley Greene looks both super fashionable and Tonys-appropriate in this army green, sequined Jason Wu gown—the slinkiness is something right out of Cabaret, while the capital-L Leg is channeling Ann Reinking in basically every role she ever held. Dressed up but toned-down. Alan Cumming and Kristen Chenowith are my favorites here, and contrasting with the carpet look vaguely patriotic. His jacket is covered in eyes (Kenzo?) and I like to think that coupled with the red-white-blue color scheme he's making a cheeky commentary on GOVERNMENT SURVEILLANCE.
Elisabeth Moss is a botanical delight in Oscar de la Renta, while the Dao-Yi Chow and Maxwell Osborne, the NYC don dadas of Public School, flank model Grace Mahary wearing a super chic creation of theirs. WANT.
G/O Media may get a commission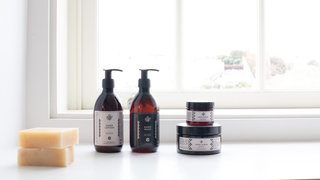 Exfoliate and Hydrate
The Handmade Soap Company
Jennifer Lopez: most triumphant look of the year! First off, she finally broke away from that tired body-cut-out-nudie silhouette, and second of all she looks like a magical fairy princess with all that gilded star detailing on this Valentino couture jawn. Joan Smalls is draped in a not-quite-leopard Givenchy like she was born in it, while the feathered shoes on model Vanessa Axente, with designer Joseph Altuzarra, could unite and form a fun little animal kingdom. Kendall Jenner's red carpet looks can provoke strong feelings of whatevs, but I'm in love with this Calvin Klein number, partly because I cannot tell what it's made of. Sequins? Velvet? Party fur? Honestly, I like it because it looks like something Charli XCX would wear with giant chunky platform nurse shoes and like, a clear rainjacket.
I love whatever CSI's Marg Helgenberger has on; the cut, the shape of the skirt, the cascade of clear black netting at the hem, the smattering of rhinestones at the neck. She is the night sky! Rita Wilson is the night sky in New York amirite: there are no stars, there are only skyscraper lights reflected back to you via sequins. Patricia Clarkson's rose dress is real pretty.

Normally I'd be complaining about all the damn solid-color gowns but something about these eight together was so captivating, like a vibrant Pantone palette crafted for our visual nourishment. Annaleigh Ashford, who won a Tony for You Can't Take It With You, looks great in a shade of electric kelly green we haven't seen much of this season, contrasted with the chartreusier hue of the god Bernadette Peters. Two versions of the flamenco girl emoji: stage actors Geneva Carr and Laura Michelle Kelly, the latter of whom may or may not be a secret A$AP Mob fan.
Rose Byrne's blue-undertone brick red is exactly the shade of lipstick I've been scouring the planet for, but it's the two levels of fuchsia on Ruth Wilson and Sarah Styles that really pop out. the deep-Vs are nice, but I'm kind of into Wilson's t-shirt bodice the most; it's chic and casual. Thalia's yellow number is a good way to keep a crop formal, so good on her.
Pearlescent beading for our ice queens Alicia Quarles and Anna Wintour, the stone cold opposites of Helen Mirren's earthy bird gown. Also of this earth: Patina Miller looking dynamite in butterfly flats (FLATS!) and a simple diamondy gown.
Model Constance Jablonski is a bit basic in this sundressy thing, the exact opposite of Kiesza's post-Bjork swan aspirations, which are doing too much. Phylicia Rashad's smoking jacket cascade is nice but a little dated, while Taylor Schilling's own cut-out is cool but giving off pantyhose vibes.
I want to love Leanne Cope's gunmetal grey dress—the shade is perfect for her—but the detailing is just one sliver too messy. Then there's Amber Valletta, whose minimalism seems like it's being attacked by loose fabric. Ashley Tisdale is wearing a Solace top that reminds me of a boob visor and it worries me. Bella Hadid is humblebragging about the fabric, perhaps—silk jersey?—but she can do better.
Cute couple alerts: Bryan Cranston and Robin Deardon, in a formal patterned caftan-style jam I like; playwright Craig Lucas and actor Frankie Krainz in a lovely gilded tux; also gilded and lovely, Kaho Minami with Ken Watanabe, and Amanda Seyfried in gold brocade. I hope everyone here joined one another in a pretty afterparty.
Okay, this is my favorite, because it's costume designer David Zinn who was basically like, oh, you want fashion on the Tony red carpet? Okay, bishes, I'll bring fashion on the Tony red carpet. And then he just silkscreened the title of a 1971 Barbara Love text that said radical feminism was great and lesbianism was cool like, "What." Also: great color scheme. I look forward to future defiance of the Anna Wintouring of the theater community!
---
Contact the author at julianne@jezebel.com.
Images via Getty