Former London Mayor and human haystack blown askew by heavy winds Boris Johnson faked everybody out real good this week. He campaigned fiercely for the historically bad idea known as Brexit and then, when it was achieved, abruptly announced that he didn't want to run the country and figure out how to implement it after all. Good one, Boris!
One member of the British public responded with an admirable show of disgust, joining a pack of reporters filming Johnson as the former mayor left home and made his way somewhere else, probably to fuck that place up too.
"What have you done to this country?" the unidentified man shouted.
"Seems to be all right to me," Johnson responded, with his trademark blend of bluster and fabrication.
G/O Media may get a commission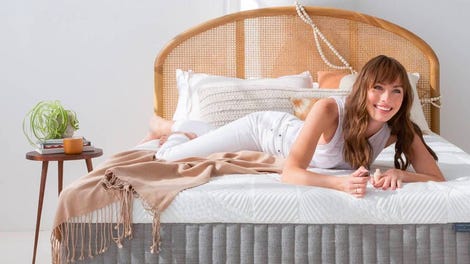 Sleep Sale
Sleep Sale - Brentwood Home
"What?" the man responded. "Absolute rubbish."
"Seems to be all right to me," Johnson repeated, charging ahead.
"You stood based on your own interests," someone else said, joining the fun.
"Rubbish," Johnson responded weakly.
"Absolute disgrace," the heckler added. "You don't have the guts to sort it out."
"Rubbish," Johnson repeated again, more softly than before.
A journalist with a microphone asked if Johnson wasn't responsible for implementing Brexit, having campaigned for it.
"Come on now," Johnson responded, spreading his hands in a Who me? gesture.
"You abandoned a sinking ship," the heckler explained gently, still in hot pursuit. "Hopeless! Unleashed ignorance, inequality. Shocking behavior."

"Rubbish, nonsense," Johnson continued to chant softly as he continued down the street trying to evade the people rightly handing him his ass.
If you need a further primer on Boris Johnson's virtuoso ability to fuck things up, the New York Times has a great one. It hearkens back to his various failures in journalism (he cheerily admitted to inventing stories when covering the European Union for the Daily Telegraph in the late '80s), marriage (he had a four-year affair with someone who wasn't his first wife) and politics (he was fired from a shadow cabinet position for lying about that affair), marriage again (second affair, fathered a child) and politics again (Brexit).
It's nice to know the U.S. doesn't have the market cornered on these things, I guess.
---
Photo via AP