Let me start off by saying I have a clutter problem. For a while I was getting both Birchbox and the Sephora Play box because I have intense FOMO and am irresponsible with money. I couldn't decide which box to cancel for months but eventually Birchbox got the axe. Beauty samples were piling up because I didn't want to give away or trade anything in case I "needed it" one day. This is what my bathroom cabinet looks like right now:

It's bad! Who needs all this? I have like six different highlighters in here! In addition to what you see in this house of horrors medicine cabinet, there are several boxes of samples in the bathroom and around my apartment. I need help! Anyway, let's get to the morning routine.
Hair:
I wash my hair two to three times per week. When that happens, I use Living Proof Full shampoo and conditioner. (Tip: Buy this at Harmons and use one of the million 20% off Bed Bath & Beyond coupons in your junk drawer. If you don't have any, ask your mom. Your mom DEFINITELY has some.) After I get out of the shower I pat dry my hair with a towel and part it down the middle. I rub a pea-sized amount of Kristin Ess Pomade between damp hands and scrunch it into my hair and just let it air dry. I have naturally wavy hair and the pomade holds curls and waves together without weighing them down. It's also pretty cheap and smells good. If it's a non-wash day I'll switch between Not Your Mother's and Living Proof's dry shampoo.

G/O Media may get a commission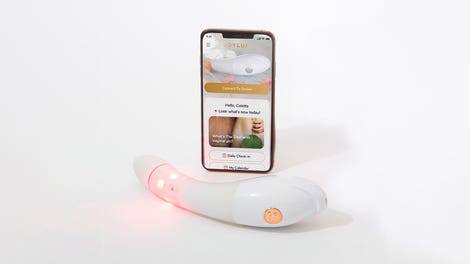 $50 Off
Joylux vFit Gold Device
A few years ago I dyed my hair purple/blue/silver and it looked fucking awesome. I miss it every day, but I rushed the dye process and I'm still paying the price for that mistake. It is possible to go from brown to almost white hair in one day. I did it. What I didn't do was listen to the hair stylist when she told me to avoid heat-styling! I fucked up my hair real bad! I rehabbed it for a while using masks, serums, and MOST IMPORTANTLY: Shu Uemura oil. This stuff is great. It smells amazing and it's great for dry or split ends. All you need is one pump and you're golden. This bottle will last you a year, I promise.



Skincare / Makeup:
I would love to be the kind of person who picks out outfits the night before but that's just not a realistic goal for me. Instead, I take a lap around the apartment after each step in my skincare routine so that my skin has time to absorb each layer of product and I get to stand in front of the various shelves, drawers and chairs that house my clothing and wait for outfits to call out to me. Here are the products I use every morning, in order:

No 7 Foaming Cleanser + Olay ProX brush

I start off every morning by washing my face and (sometimes) using my Olay brush. I don't exfoliate my entire face, just the areas that tend to get gunky: nose, chin, lower forehead. I also have a little Mia face brush which I love. I use that one when I travel since it's easier to pack.
I use a cotton pad and pat SKII Essence onto my skin. I've been rationing this tiny sample for two months because the full size is very expensive but I'm probably going to buy it because my skin looks amazing. I have a $99 SK-II gift set in my cart right now and I know Sephora's annual 20% off sale is coming up so...
Ole Henriksen Truth Serum
I LOVE this serum. I got a sample of it last month and saw a change in my skin in two days. The bumps on my forehead are gone and my skin looks glowy and healthy. One thing to note about this serum is that you have to pump it into your hand and pat it into your skin very quickly because it gets sticky fast.
Eye Cream & Moisturizer
After serum I put on this eye cream and this moisturizer from Shiseido. I've been using both of these for years and I highly recommend.


Makeup:
Elf Color Correcting Stick
This thing is four dollars and I love it. It's a bit dry but that shouldn't be a problem since it should go on after eye cream. I draw three diagonal lines under each eye and blend it with a mini beauty blender.
Kat Von D Lock-It Concealer Creme
I'm currently using a sample of this and love it. The coverage is great but also very lightweight.
Garnier SkinActive BB Cream
Since incorporating SKII and the Truth serum into my skincare routine, I've stopped using bb cream and foundation for the most part. But when I want some extra coverage I use this Garnier BB cream. I've tried several more expensive BB creams but I always go back to this one. It's light and sort of watery, but in a good way! I dot it on my face and blend it with a Beauty Blender.
Benefit Gimme Brow
This is fine but I'm honestly just waiting to finish the tube so I can try Glossier's Boy Brow.
Buxom Mascara
I rotate through four or five different mascaras (these samples pile up!) but the one I actually buy is this one from Buxom. I love the brush because it doesn't get clumpy and the mascara doesn't run.
Cargo Beach Blush
I have nothing to say about this. It's fine. I never really know if I'm doing blush right, so?
Go-to day lips:
Clinique Almost Lipstick in "Black Honey"
Fenty Beauty Lip Luminizer (THANK YOU FOR THIS RIHANNA.)
Kat Von D Liquid Lipstick in "Lolita"
This is what I look like before and after this whole process:
Night
When I get home I take off my makeup with a baby wipe and put on a layer of the Boscia Pore Pudding, which I love. I leave it on for 25 minutes before washing it off. I moisturize right after because this mask is a bit drying. I use this mask once a week and usually pick a second mask from one of my many boxes of samples. That's it! Those are all my things! I thought of adding it all up to see how much it costs but I don't feel like crying today.