Uh-Oh. There is trouble in paradise. Or in this case, Neptune*.
Over the weekend, the highly anticipated Kickstarter-financed Veronica Mars movie debuted in theaters (and made about $2 million so far). That part was great—only one small problem. Kickstarter backers who donated $35 or more were guaranteed "a digital version of the movie within a few days of the movie's theatrical debut." According to Entertainment Weekly, those people had a lot of trouble getting their film on Flixter/Ultraviolet where the film was made available:
But, as of Friday night, some were experiencing difficulties downloading the film via Flixster/Ultraviolet. One backer wrote: "Tried to get the movie streamed/downloaded on several devices and ended up wasting 5 hours and still didn't get to watch the movie on release day. This has really tainted what had been until now a really positive experience."

Those who reached out to customer support were given three options: work through the Flixster issues with customer support to try to resolve; purchase it on iTunes or Amazon and email the receipt which will be refunded to the purchaser in full; or, take a $10 refund, which, they say is the amount of the Kickstarter pledge that was used for the digital download.
SHE HAD TO WATCH IT ON A LAPTOP. OH GOD. WHEN WILL THE SUFFERING END?
G/O Media may get a commission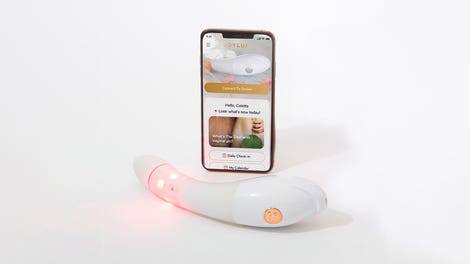 $50 Off
Joylux vFit Gold Device
Gotta love how totally nuts frustrating, uncooperative technology will make a perfectly sane human being.
Veronica Mars creator Rob Thomas jumped in immediately with a response, via the film's Kickstarter page: "I genuinely want today to be perfect for all of you…I want you to be able to watch it on whatever platform or device works best for your needs. Please know that Warner Bros. have given Customer Support a lot of freedom to help make things right, so if you're having issues, please let them know: they'll do their best to either help get Flixster working to your satisfaction, or, if you prefer, to provide an alternate solution."
According to the LA Times, Warner Bros. is also issuing a refund for dissatisfied customers who had trouble over the weekend. The company released this statement:
The vast majority of Veronica Mars backers who attempted to redeem their code had a successful experience. A communication was sent to all backers yesterday from Rob Thomas telling them to get in touch with Veronica Mars technical support if they were experiencing problems. Backers who had technical issues were assisted directly by the Veronica Mars customer support team while those who expressed a preference to have the film on a different format received the communication below offering to reimburse them for the cost of purchasing the film in that format. We are, of course, working diligently to ensure that all the Veronica Mars backers have a great experience.
This isn't the first time tech savvy people have decided to skip the old-fashioned of television/movie watching with heartbreaking results. Clearly, we are now in entertainment crisis mode. There is only one logical solution to these problems. Build a cybermatronic-supernetic Internet downloading monster robot that feeds off all the energy supplies in the world and produces nothing but high-speed Internet TV and movie downloads. Humanity will be forced to live without power for all other electronic devices except for our entertainment consoles. I believe this trade-off to be an extremely fair one, as I have explained in my proposal to the United Nations. Thank you and Godspeed, Internet downloaders.
*If you think that was bad, just be thankful I didn't decide to go the direction the LA Times went and give you "Some of the Marshmallows behind "Veronica Mars" are getting heated." OK? So you're welcome.
Image via Getty Images.