Vaseline has developed a skin lightening app for Facebook, so users can make their profile pics look whiter. Because why rely on an advertiser's unrealistic and racist image of beauty when you can create your own?
Skin whitening creams have been marketed to women for a long time, especially in India (in fact, Vaseline India's homepage right now is an ad for a whitening "body milk"), and skincare companies have been trying to spread the "whiter is better" message to men as well. Now Vaseline Men has debuted a Facebook app that lets men "BE PREPARED" — by whitening their profile pictures. AFP's coverage of the app notes that "a poll of nearly 12,000 people by online dating site Shaadi.com, revealed that skin tone was considered the most important criteria when choosing a partner in three northern Indian states," and indeed, Vaseline Men's BE PREPARED page does seem to be working the dating angle. One recent post reads, "Love Letter or Love Sms', what will you prefer to speak your heart out to your SPECIAL ONE??"
It would be easy to dismiss BE PREPARED as a stupid stunt, were it not so clear that racial prejudice permeates online dating — and potentially Facebook flirting as well. Of course simply lightening your Facebook picture won't fool anyone on an actual date, but Vaseline's clearly hoping that using their virtual products will convince dudes to buy their physical ones. And in a way, this is the Photoshop of Horrors brought to its most depressing possible conclusion. In the past, advertisers had to create unrealistic images to make people feel bad about themselves and buy shit. But now, Facebook users can create their own. It's crowdsourced insecurity, with an added bonus of racism. If this is the future — one of user-generated prejudice and do-it-yourself-loathing — I almost miss good old airbrushing.
Vaseline Launches Skin-Whitening Facebook India App [AFP]
Vaseline Men BE PREPARED [Facebook]
G/O Media may get a commission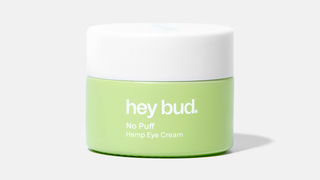 15% off
Hey Bud - No Puff Hemp Eye Cream
Earlier: Indian Women Whiten Their Skin, Fight The Patriarchy
'White Beauty' Has An Ugly Message
In India, Fair Is Handsome & Dark Is Doomed