A Vanderbilt University football player accused of participating in a gang-rape could be brought down by the spelling of the word "quesadilla." The trial of Cory Batey, 20, and Brandon Vandenburg, 21, is set to begin today; last week, prosecutors argued Batey couldn't have been as drunk as he claimed, given that he was able to successfully spell the word in a text.
Vandenburg's defense attorney has claimed that he was too drunk to participate in the alleged rape of a 21-year-old unconscious woman, his girlfriend, or even know what happened that night. Batey's attorney Worrick Robinson argued in a last-minute pretrial hearing that he, too, was too drunk to form an intent to commit rape. But Deputy District Attorney Tom Thurman pointed out, according to the Tennessean, that he wasn't so drunk he couldn't spell "quesadilla" in a text message requesting one. Thurman said it's one example of Batey being less drunk than he claimed.
But Robinson, according to the paper, said that Batey might've indeed been totally wasted, but that auto-correct fixed his spelling.
"It has nothing to do with whether he could get into his dorm room, or whether he could spell the word quesadilla," he added. "It has everything to do with whether Mr. Batey formed the intent for the specific act for which he is at trial." He said, too, that Batey's "intentions were not what they would have been had he not been intoxicated."
In another Tennessean piece today, a sexual violence prevention educator suggests that the trial, along with the allegations against Bill Cosby, could bring greater "awareness" to sexual assault, just as the O.J. Simpson trial made people more aware of domestic violence. That's a strange metaphor, since Simpson was acquitted and his trial mostly served to make us all aware that, generally, you do an inverse amount of prison time proportional to the amount of money in your bank account. But also, how much more "aware" of rape can we possibly be?
G/O Media may get a commission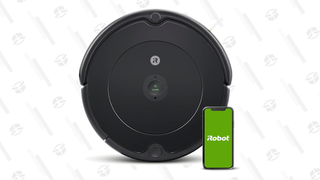 35% Off Black Friday Deal
iRobot Roomba 694 Robot Vacuum
The other two players accused in the attack, Brandon E. Banks and Jaborian "Tip" McKenzie, both 20, are still being charged, but prosecutors have said their cases are "on hold" until the Batey and Vandenburg trial ends. Banks and McKenzie are expected to testify on behalf of the prosecution.
Image via AP