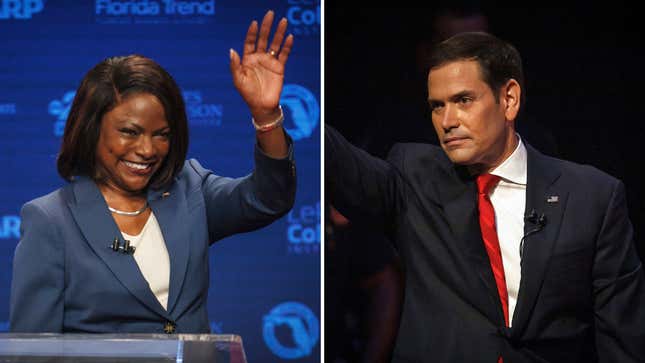 Congresswoman and Democratic Senate candidate Val Demings (D-Fla.) actually stood up for abortion rights in her debate against Sen. Marco Rubio (R-Fla.) Tuesday night—and powerfully. It was so fucking refreshing to see someone give a full-throated defense of the right to choose without interference by the state.
"As a police detective who investigated cases of rape and incest, no Senator I don't think it's OK for a girl to be raped and to carry the seed of her rapist. No, I don't think it's OK for you to make decisions for women and girls as a senator. I think those decisions are made between a woman, her family, her doctor and her faith," Demings said with passion.
Video of the moment here:
And it wasn't just abortion that had Demings running circles around "Little Marco," as Donald Trump lovingly nicknamed him. Demings also took Rubio to task for his support of lax gun restrictions. "How long will you watch people being gunned down in 1st grade, fourth grade, high school, college, church, synagogue, a grocery store, a movie theater, a mall, and a night club and do nothing?" Demings basically yelled at Rubio, seeming to lose her voice.
Again, it's a moment better to be watched than read:
Rubio, as one political consultant noted last night, was "stumbling, nervous, and jumpy as hell" throughout the debate—and Demings just kept the hits coming. "Of course the senator who has never run anything at all but his mouth would know nothing about helping people and being there for people when they are in trouble," Demings said when talking about pandemic relief funds.
Demings actually displayed some chutzpah in a moment that really requires it. That's what voters want to see, even if her chances of unseating Rubio remain shaky. FiveThiryEight's average of recent polling shows Rubio has a nearly five-point lead over her. Still, showing actual emotion when talking about how policy is impacting people is why people are drawn to Bernie Sanders and Elizabeth Warren. Giving a damn is good politicking.
Demings didn't just come for Rubio Tuesday night—the candidate also took aim at another lying Republican candidate, tweeting a photo of herself holding her Orlando police badge from her time as chief of police. "This one's real," Demings wrote, in an obvious knock at Georgia Senate candidate Herschel Walker, who flashed a fake police badge in his debate Friday night against Sen. Raphael Warnock (D-Ga.).
More of this from Democratic candidates, please.
Rubio suggested that we should consider not using ballot drop boxes because of the possibility of violence. "There's danger involved with drop boxes. People need to think about it," Rubio said, sounding a little conspiratorial I must say. "Imagine if someone decides, 'Oh there's a drop box, I'm just going to put some explosives in it, and blow it up, burn all those ballots and now those votes don't count at all."
A version of this fictitious scenario already happened. In October 2020, a fire erupted at a ballot drop box in Los Angeles county. The Los Angeles County supervisor said the more than 200 voters were informed and sent new ballots. The LA-area fire was not the thing that dropped voter's confidence in the integrity of the 2020 election, if I recall January 6, 2021 correctly.

Beyond his attempt to scare people off of completely normal voting measures, Rubio attempted to counter Demings's zingers by focusing on her Congressional record. "She's been in Congress for over half a decade and she's never passed a bill. Not PPP, not anything. Not a single bill she's passed has become law," he said.
When searching Demings's congressional record, a few of her sponsored bills have become law. As the bill sponsor, Demings passed legislation renaming federal buildings in Florida after a cop killed on the job and a local longtime politician. As co-sponsor, she has her name on more than 50 pieces of legislation that became law.
Sadly for him, Demings prep team just seemed to do a better job. "I'm really disappointed in you, Marco Rubio. I think there was a time you did not lie in order to win," Demings countered. "My first term in the U.S. House I passed legislation to help law enforcement officers with mental health programs."