The U.S. Department of Education announced Monday afternoon that their investigation found that the University of Virginia has a "mixed record" in responding to reports of sexual violence and sexual harassment on campus. Among other things, according to a press release from the ED, UVA failed to promptly investigate cases involving fraternities.
It's been nearly a year since the infamous and now-discredited Rolling Stone story was published which detailed "Jackie's" account of what she claimed was a brutal gang rape on the UVA campus. Nicole Eramo, one of the deans mentioned in the piece, is suing reporter Sabrina Rubin Erdely and the magazine for defamation.
Meanwhile, the Department of Education's Office for Civil Rights (OCR) has been investigating claims that UVA violated Title IX, the federal law that prohibits sex discrimination. On Monday, that UVA has entered into an agreement with the feds in order to fully comply with the law.
The ED's investigation found several areas of concern, but the report says the university addressed many of them quickly and thoroughly:
OCR's investigation determined UVA had a mixed record of responding to reports of sexual harassment and sexual violence. During the course of OCR's investigation, the university took important steps to ensure it is meeting its Title IX obligations, including consistently providing support to students who report sexual violence and revising university policies on eliminating, preventing and addressing sexual harassment and sexual violence. These and other steps taken by UVA reflect a commitment to support a safe learning environment.
G/O Media may get a commission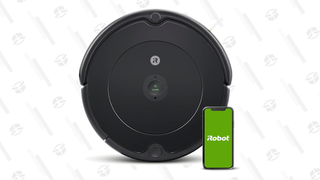 35% Off Black Friday Deal
iRobot Roomba 694 Robot Vacuum
The ED specifically says that in several cases, the school failed to "promptly and equitably" respond to sexual violence complaints, including cases involving fraternities.
During academic years 2008-09 through 2011-12, and with respect to three specific concerns identified after the 2011-12 academic year, OCR found UVA to be in violation of Title IX for failing to promptly and equitably respond to certain complaints of sexual violence, including in instances in which the university did not promptly investigate information in cases that involved fraternities. OCR also found a basis for a hostile environment for the affected students and that the university failed to take sufficient steps to eliminate a hostile environment and prevent its recurrence for the portion of the investigation that OCR completed.

It also found that the school's policy didn't provide due process for either the complainant or the person accused of assault:
OCR also found that prior to the adoption of its current policy, the policies used by UVA to investigate and respond to sexual violence did not fully comply with Title IX. Some aspects of the prior policy did not provide fair process either to complainants or to students accused of sexual violence, and the university corrected this during the course of OCR's review, which opened in June 2011.
In the release, UVA President Teresa Sullivan said UVA was "reaffirming our commitment" to addressing sexual assault:
"By signing the resolution agreement, we have reaffirmed our commitment to continue taking steps we believe to be an important part of effective responses to sexual harassment and assault — urgent and complex societal issues of national importance that are challenging institutions of higher education and beyond," UVA President Teresa A. Sullivan said. "We have already implemented many of the measures identified in the agreement."
UVA is one of 106 schools currently being investigated for mishandling Title IX complaints, many of them having to do with the processes on campus for dealing with rape, sexual assault, or sexual harassment claims. The evidence points to this being a massive, massive problem: the Association of American Universities released a survey yesterday of 150,000 college students about sexual assault on their campuses. Of that number, 23.1 percent of female student said they'd experienced "sexual assault or sexual misconduct" after their assailant used "physical force, threats of physical force, or incapacitation." Almost 11 percent said they'd been forcibly penetrated. That survey included UVA, where about 1 in 4 women said they were sexually assaulted.
In other words, that is a direct confirmation of the statistic that about one in five female college students are raped or sexually assaulted. After Rolling Stone's UVA story was discredited, many pundits called the one in five number "a hoax."
The Association of American Universities survey also found that students are unlikely to report rape and sexual assault to law enforcement or campus authorities; they say reporting rates range "from five percent to 28 percent, depending on the specific type of behavior." Wonder why.
---
Contact the author at anna.merlan@jezebel.com.

Public PGP key
PGP fingerprint: 67B5 5767 9D6F 652E 8EFD 76F5 3CF0 DAF2 79E5 1FB6
UVA President Teresa Sullivan, pictured in 2012. Image via AP.