In case you haven't heard, Usher's 5-year-old son with ex-wife Tameka Foster is in Intensive Care after he nearly drowned when he got his arm stuck in a pool drain. The whole thing is entirely awful in every way. Now, Foster (who currently has limited custodial rights, and who tragically lost her 11-year-old son Kile in a jet-skiing accident just last summer) says she wants primary custody of their two children, who she believes are "in danger."
Usher's ex-wife has just filed legal docs asking for an emergency hearing later this week ... to wrestle child custody away from him, on grounds he's creating a dangerous environment ... TMZ has learned.

Tameka Raymond filed the docs in Fulton County, Georgia, claiming Usher is abdicating his parental responsibilities by letting other people care for their 2 kids — people who she claims are not on the ball.

We know Tameka has specific beef with the Usher's aunt — who was watching 5-year-old Usher Raymond V when his arm got stuck in the pool drain on Monday. Tameka has complained about the aunt in the past — alleging she once let a stalker in the house where Usher and the kids were staying. Tameka also says the aunt is too physical in disciplining the kids.
Usher Raymond V's condition has been described as "okay." I don't know what I can even say. [TMZ]
---
Today in THANK GOD, and DUH, Lindsay Lohan is reportedly "doing everything that Oprah tells her to do."
As she's done with countless others, Oprah Winfrey has made it her mission to help Lindsay Lohan live her best life. In addition to interviewing the rehabbed starlet for an upcoming episode of Oprah's Next Chapter, the talk show host has also instructed the actress to skip her trip to Europe.
"I just came from Europe, and Europe is the place to go when you want to feel really good and relax," Winfrey, 59, said during a Good Morning America interview on Tuesday, Aug. 5. "It's hard to go to Capri and not have a Bellini."

Indeed, a source tells Us Weekly that Lohan, 27, ditched her plans to travel abroad to focus on her sobriety and her upcoming OWN docuseries. "She is doing everything Oprah tells her to do," the source explains.
G/O Media may get a commission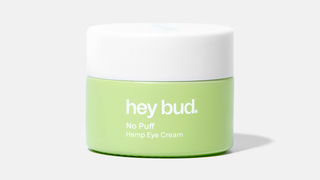 15% off
Hey Bud - No Puff Hemp Eye Cream
Love it. Love everything about it. More of it. All of it. Also now I want a Bellini. [Us]
---
Mark Wahlberg told Justin Bieber to "pull up his pants" and "stop smoking weed." In a fake British accent, apparently? So. [Us]
BETHENNY FRANKEL'S COMPANY IS CALLED SKINNYGIRL BUT HERE IS A PICTURE OF HER EATING SOMETHING HOW CAN THIS BE [DailyMail]
Dustin Hoffman had cancer but now he says he doesn't have cancer anymore. Yay, Dustin Hoffman! [E!]
Terence Howard's ex-wife claims that he punched her in the face, grabbed her by the neck, and slammed her against a wall. TMZ charmingly captured the photos of her injuries "PUERTO RICAN BRAWL." :-| [TMZ]
Okay what? Apparently Snoop Lion is selling an electronic sticker (that is, it's not even a real sticker that sticks on things, it's just the computerized concept of a sticker) for $99.99, AND PEOPLE ARE PURCHASING IT. The imaginary hundred-dollar sticker is a picture of a golden joint. This is my favorite piece of information in my entire brain. [WSJ]
Charlie Sheen is in Hawaii hanging out with ladies' boobs. [DailyMail]
Leonardo DiCaprio Frenched a model. [Us]
Khloe Kardashian is fighting to protect tigers. [E!]
SYLVESTER STALLONE IS SO MAD AT BRUCE WILLIS, YOU GUYS.

HE SAT DOWN AND TYPED IT WITH HIS ORANGE LITTLE FINGERS. I AM SO HAPPY RIGHT NOW. [E!]
Geena Davis is such a fucking boss. [Us]
You: toxic. Me: slipping under.

Images via Getty.