Last week, Jezebel reported on George Tyndall, the University of Southern California student health center's primary gynecologist who was allowed to continue practicing at the school despite years of sexual misconduct allegations. Since the 1990s, Tyndall has been accused of making sexualized comments about patients' bodies while giving exams, photographing their genitals, and racially targeting Chinese patients, among other crimes. On Monday, a class-action lawsuit was filed against Tyndall, USC, and its board of trustees by "a proposed class of hundreds, if not thousands, of women students," according to attorneys from Hagens Berman Sobol Shapiro LLP, a nationwide litigation law firm.
The suit, detailed on the firm's website, stipulates "a pattern of improper behavior." It reads:
"Both patients and nurses at USC accused Dr. Tyndall of "creepy" behavior, including inappropriate touching of his patients. Still, despite this knowledge, the university balked, allowing him to continue to practice. Not until 2016 was Dr. Tyndall finally suspended after a nurse approached USC's rape crisis center. According to the Los Angeles Times, '...in a secret deal last summer, top administrators allowed Tyndall to resign quietly with a financial payout.'

USC did not act on its knowledge of sexual harassment and the violation of its students by its own employee. USC did not notify Tyndall's patients or patients' parents when he was suspended. USC did not report Dr. Tyndall to the Medical Board of California."
The complaint, filed by "Lucy Chi, individually and on behalf of all women who received a medical examination from Dr. George Tyndall at the University of Southern California," details abuses dating back to the '90s, including Chi's own.
In 2012, Chi was a first-year graduate student at USC when she saw Tynall for her annual exam, without a chaperone present. (He told her she'd have to wait half an hour if she wanted to have one to accompany her in the exam room, so she went ahead with the appointment.) The suit describes his demeanor as "suggestive," and explains that he penetrated her vagina with his fingers, "saying he wanted to loosen up her vaginal muscles for the speculum." Later, while examining her breasts, Tynall removed his gloves and began touching them in an inappropriate fashion.
G/O Media may get a commission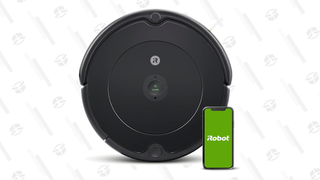 35% Off Black Friday Deal
iRobot Roomba 694 Robot Vacuum
According to the complaint, the examination lasted about 15 minutes and Chi left upset, telling herself she'd never see Tynall again. Apparently the chaperone arrived to the center in that time and "asked Tyndall why he hadn't waited for her, given that she had told him she was going on a short break. Tyndall replied that Chi had given him permission to proceed without a chaperone, as if the violation of protocol and standard of care was Chi's fault."
Read the full complaint below.