Overnight, something very interesting happened to the Urban Outfitters website: all 21 of the company's products that had been called "Navajo" vanished. At least at first glance.
The clothing chain's use of the word "Navajo" — which is not only the name of a tribe, but also a trademark owned by the Navajo Nation — recently came under fire when it was revealed that the Nation had sent Urban Outfitters a cease-and-desist letter in June. At issue were allegedly trademark-infringing products including the "Navajo Flask" and the "Navajo Hipster Panty." On Columbus Day, Minneapolis woman Sasha Houston Brown wrote an incendiary open letter to the company, calling Urban Outfitters' various Native American-inspired products "a cheap, vulgar and culturally offensive retail collection."
Just last Thursday, Urban Outfitters' PR head Ed Looram claimed the company had never been contacted by the tribe. "We currently have no plans to modify or discontinue any of these products," said Looram. That was then. Today Looram says:
As this matter is now in the hands of our legal dept I'm no longer at liberty to comment on this topic.
G/O Media may get a commission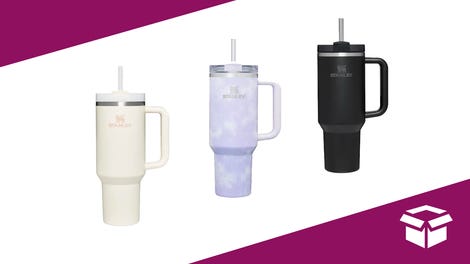 Up to 45% off
Stanley Cup Sale
But a little poking around on Urban Outfitters' site shows that the products aren't really gone. The company simply changed their names. A search on "Navajo Flask" turns up no results. But a search on "Flask"? Oh, there you are! Meet the "Printed Fabric Wrapped Flask," everybody.
Similarly, the "Navajo Hipster Panty" has now transformed into the "Printed Hipster Panty." The "Navajo Nations Crew Pullover" is now the "OBEY Printed Crew Pullover." The "Title Unknown Techno Navajo Quilt Oversized Crop Tee" is now the "Title Unknown Techno Quilt Oversized Crop Tee." What were listed as "Navajo Feather Earrings" are now just "Feather Earrings." And so on, and so forth.
Law professor and fashion law expert Susan Scafidi said last week that in a trademark dispute such as this, what's at issue isn't the products themselves, it's the use of the protected mark — in this instance, the word "Navajo." "Simply changing the name from 'Navajo' to 'Southwestern' would go a long way towards not trivializing an entire people," said Scafidi. Looks like someone at Urban Outfitters agrees.
I've approached both Sasha Houston Brown (who alerted me to the change at Urban Outfitters' site) and Brian Lewis, an attorney for the Navajo Nation Department of Justice, for comment about this development. I'll update with their responses.
Update: The Navajo Nation Department of Justice released a statement, which reads in part:
The Urban Outfitters Corporation's recent removal of the Navajo name from its online marketing and retailing are positive actions that are more consistent with the corporation's responsibilities than previously demonstrated. If the company has also ceased using the Navajo name in conjunction with its merchandise in its retail stores and print-media advertising, these are encouraging steps by the company towards amicably resolving this matter.
The statement also says that the tribe "appreciates actions such as those recently taken by Urban Outfitters, and encourages other companies to take similarly responsible measures in the future."
Earlier:
Urban Outfitters And The Navajo Nation: What Does The Law Say?
The Most WTF Navajo-Inspired Clothing And Accessories
Urban Outfitters' "Navajo" Problem Becomes A Legal Issue