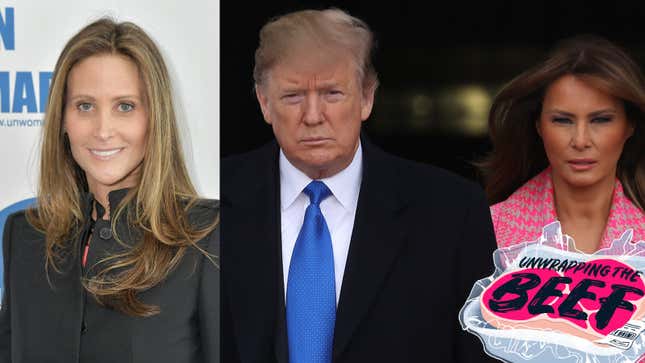 Stephanie Winston Wolkoff, the longtime Met Gala planner turned lead organizer for Donald Trump's inaugural celebration and former senior adviser to Melania Trump, was unceremoniously fired by the First Lady last February—and she is very upset at her (possibly former) friends, the Trumps. More specifically, she is upset at White House officials who characterized her departure as stemming from the revelation that her firm, which was called WIS Media Partners, had received a whopping $26 million to help plan the inauguration.

"Was I fired? No," Winston Wolkoff said in a statement she sent to the New York Times. "Did I personally receive $26 million or $1.6 million? No. Was I thrown under the bus? Yes."
How pissed do you have to be to mark the 14-month anniversary of getting fired by unloading on your former friend-turned-former-boss? Let us unwrap this beef, shall we?
First, who exactly is Stephanie Winston Wolkoff? Winston Wolkoff is a former staffer at Vogue and the adopted granddaughter of famed jeweler Harry Winston (her biological father comes from a long line of prosperous chicken farmers in upstate New York). She is perhaps best known—at least among the contingent of people who know things like this in the first place—for being in charge of planning the Met Gala for more than a decade, where she infamously once proclaimed, "no money, no come-y." She's married to a real estate developer whose singular achievement was tearing down the New York City graffiti mecca 5Pointz to turn the site into luxury condos. Relatedly, the couple was sued in 2015 for allegedly stiffing a tutor they hired for their kid out of $33,000. Such lovely people.
According to Harper's Bazaar, Winston Wolkoff and Melania Trump have known each other for more than two decades. At the end of November 2016, shortly after the election, Winston Wolkoff was brought on to help plan Trump's inauguration and associated events. Despite donating $10,000 to the Democratic National Committee in 2014 (which she claimed to not remember doing in a profile in the New York Times), Winston Wolkoff threw herself into planning a lavish celebration for Donald Trump. "This is not about partisan politics. It's about being able to celebrate the history of America," she said at the time. Sure!
The inauguration was a success, at least financially, raising $107 million from a host of corporations and wealthy donors. "No money, no come-y" indeed! After the inauguration, Melania made Winston Wolkoff her first hire, bringing her on as a senior (and apparently unpaid) adviser. While it's unclear what exactly her role was, she apparently used her time in the East Wing to tell Melania that her Be Best initiative sounded "illiterate." What are friends for if not to be brutally honest with you when you sound illiterate while simultaneously trying to end opioid addiction and cyberbullying?
But the record fundraising by the inauguration committee, led by the private equity real estate investor Thomas Barrack, increasingly fell under scrutiny, and in February 2018, after news broke that Winston Wolkoff's firm had been paid $26 million for her services while only a relatively paltry $5 million had been donated to charity, Melania soon parted ways with Winston Wolkoff, issuing a statement through her spokesperson Stephanie Grisham saying that the East Wing had "severed the gratuitous services contract with Ms. Wolkoff." "We thank her for her hard work and wish her all the best," Grisham continued. According to Vanity Fair, Wolkoff had "urged Melania to defend her." But this is what went down:
A member of the White House Counsel's Office called her on February 20, 2018, to let her know that the White House would be terminating all gratuitous-services agreements, including hers. It had nothing to do with her work on the inauguration, this person told her. "I am sorry that the professional part of our relationship has come to an end, but I am comforted in the fact that our [friendship] far outweigh[s] politics," Melania wrote her in an e-mail later that day. "Thank you Again! Much love."

Later that evening, in a phone call, Wolkoff told the First Lady that she worried it appeared as if she had been fired on account of her work on the inauguration. The First Lady urged her not to be "dramatic." Less than a week later, however, the Times published a story stating that the severance of Wolkoff's contract had been "prompted by displeasure from the Trumps" over the $26 million payment.
Ouch.
It's clear why, as investigators began circling around the dubious activities of the inaugural committee, Melania would want to distance herself from Winston Wolkoff, who reportedly "often invoked Mrs. Trump's name with transition officials as she delivered instructions for the inauguration." (Grisham, Melania's mouthpiece, vigorously denied this assertion. According to her, Melania "had no involvement" with the committee "and had no knowledge of how funds were spent.") And the boom came down last December, when it was revealed that federal prosecutors in New York were looking into whether foreign citizens illegally donated to Trump's inaugural committee. Are you dizzy yet?
The lead for that case came indirectly from Winston Wolkoff and a conversation she had with Michael Cohen, according to a report from the New York Times. As we now know, Cohen tapes every conversation he's ever had with anyone— Winston Wolkoff included:
The prosecutors in Manhattan were apparently following up on leads from their case against Michael D. Cohen, the president's former longtime fixer. Mr. Cohen was sentenced on Wednesday to three years in prison, in part for organizing payments to cover up sex scandals that could have threatened Mr. Trump's chances of winning the White House.

Among other documents seized during raids on Mr. Cohen's home and office in the spring, investigators found a tape recording of a conversation with Stephanie Winston Wolkoff, a friend of Melania Trump's, who ran entities that collected $26 million from the fund. Ms. Winston Wolkoff blamed Mr. Barrack for news reports questioning the payments to her and criticized him for failing to properly manage the account, according to people who spoke with her. She complained about how he had handled the money to several friends, including Mr. Cohen, those people said.
And then earlier this April, we found out that Winston Wolkoff has also been telling on the Trumps. Pour one out for a decades-long friendship which ended after an unceremonious firing that maybe made Melania look like she were very innocent while your friend was very guilty!!! Per Vanity Fair:
In early October, the United States attorney for the Southern District signed off on a grand-jury subpoena, which Wolkoff was prohibited from disclosing for 180 days. The subpoena, which initially gave Wolkoff roughly two weeks to appear, asked her to produce documents related to the inaugural committee. She has been cooperating with the investigation, sharing thousands of documents and e-mails she saved, and is not considered a target, according to a person familiar with the matter. (Wolkoff declined to comment. A spokesman for the S.D.N.Y. declined to comment.)
Winston Wolkoff has also been caught up in House Democrats' scrutiny of possible foreign influence over Trump, with House Intelligence Committee Chairman Adam Schiff requesting a boatload of documents and that she come in for a voluntary interview. Again from Vanity Fair:
In his letter, Schiff asked Wolkoff for documents related to communications with foreign officials related to any gifts, offers, solicitations, or contributions to Trump and the Trump Organization; Trump's son-in-law, Jared Kushner, and his "business interests"; and Trump's daughter Ivanka Trump and her business dealings. More broadly, Democrats on the Intelligence Committee have asked for a host of information about the inaugural planning, including organization charts and employee information; complete donor lists and due diligence related to donations the inaugural committee received; inaugural budgets and invoices; guest lists for the events; any payments made directly by donors to vendors; and any effort to shield the identity of donors.
Which brings us to today, where the beef continues! Winston Wolkoff, you sound awful but we wish you luck in this beef.