For those of us bleary, coffee in hand, who rose to this 7AM TMZ headline:

KIM KARDASHIAN TO RHYMEFEST How Dare You Attack Kanye... YOU LOSER!!!
Remain calm. Here's the series of events:
1) In 2011, Kanye West co-founds a charity called "Donda's House," named for his late mother, with Rhymefest and former Chicago Public Schools teacher Donnie Smith. Its mission statement declares that it will carry on Donda West's mission as an educator by training 15 to 24-year-olds in performance art, healthy living, and "life-skills."
2) In 2018, Kanye West launches a MAGA-themed fusillade of "free thoughts" culminating in the remark that slavery was "a choice."
3) Storm is brewing: On Friday, Donda's House asks that "those who feel hurt, angered by or frustrated with Kanye West not penalize or throw away their support, respect and advocacy for us."
4) Storm is here bitch: Rhymefest tweets that he's asking @Drake to step in to help Donda's House which "Kanye has Abandoned!"
G/O Media may get a commission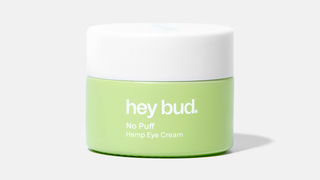 15% off
Hey Bud - No Puff Hemp Eye Cream
5) STORM IS FUCKING HERE BITCH: Kim Kardashian West unleashes Category 5 tirade/level of authenticity like nothing seen since the Taylor Swift Snake Strike of 2016:
6) Due to Kim's tweets and her statement that she will "let [her] children run it" Donda's House announces that they will change their name and "encourage Kim and Kanye to indeed pick up the baton of service."
7) Dondashouseinc.org is down.
It's over.
Til it's not.
---
Thandie Newton grew her own pubic hair for Westworld's *historically-accurate* nudity, concluding that hours of gluing a merkin to her labia were better spent at home with her toddler.

---
Tiffany Haddish's litigious and very good-looking ex-husband with probably lots to offer is reportedly suing for libel, slander and defamation, specifically for the chapter in her biography "The Last Black Unicorn" accusing him of "choking, kidnapping and stalking" and "hinting" that his abuse caused the death of their unborn child. According to TMZ, he's asking for damages in excess of $1 million.
---