Because the sky is blue and Justin Bieber will indisputably always look like an inebriated toddler, Chris Brown has found himself facing a lawsuit for assault.

This time, the victim of Brown's alleged abuse is the singer's former manager Mike G, who was hired in 2012 after he attacked his then-girlfriend Rihanna to resuscitate Brown's image, as well as help him get out of debt and handle his drug use. Irony.
As TMZ reported:
Things allegedly turned bad last month...Mike G claims without provocation, Brown took him in a room, brutally attacked him with repeated punches to the face and neck, which landed him in the ER.

The lawsuit claims Brown, rather than being remorseful, began mocking Mike G on social media and bragging to friends about the beating. Mike G says Brown had the audacity to tell people working on his tour, if they got out of line he'd beat them just like he beat Mike G.
Mike G says Brown's rage was drug-fueled and the suit mention concern for retaliation from Brown's "gang member friends."
[TMZ]
---
In the surrealist outtake of Keeping Up With the Kardashians I have ever seen (or the surrealist outtake I have seen from any reality show, for that matter), Kris Jenner recalls that one time she saw what she thought was the bloody hand print of her best friend Nicole Brown Simpson after she had been murdered.

G/O Media may get a commission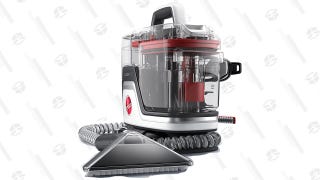 Save $10
Hoover CleanSlate Plus Carpet & Upholstery Cleaner
...yeah, you know, that one time.
In the deleted scene, Jenner, her boyfriend Corey Gamble, and discuss The People v. O.J. Simpson: American Crime Story, which leads the Kardashian-Jenner matriarch to recount her tale.
"Do you remember the story of when Nicole's mom called me and said, 'Can you go get all of [Nicole's children] Sydney and Justin's stuff out of their rooms?' The L.A.P.D. left the blood on the steps and it was going all down the front of the house. [...] We get to [Nicole's daughter] Sydney's room, and you know it's a four poster bed so on two of the posters, there was a hand print and it was red. And I went, 'I think this is blood.' So I called Marcia Clark and I go, 'Oh my god, I'm at Nicole's house and I think I see blood.' They had forensic scientists within 30 minutes after we got there and they did this analysis."
In the end, the mysterious substance turned out to be Jell-O, which lends itself to a bigger mystery: exactly how does one leave a hand print made out of Jell-O? [EOnline]
---
---
Contact the author at jamie.reich@jezebel.com.

Image via Getty.