Results are in from the first large scale study of the experiences of LGBT youth in Japanese schools, and unsurprisingly, those experiences suck.
In a report by Mizuho Aoki on May 8th, the Japan Times shared the the results of the study, which was conducted by Inochi Risupekuto Howaito Ribon Kyanpen ("the respect for life white ribbon campaign"). The study included 609 participants. Of those respondents 68 percent experienced bullying at some level of education (elementary, junior high school, or high school). All of the participants were from the Tokyo region (where I now am), but I have lived and worked in four prefectures, and I do not believe the Tokyo regional area is worse, but rather likely typical.
53 percent were verbally abused and 49 percent were ignored or excluded from groups. Some 20 percent experienced physical bullying and 11 percent suffered sexual abuse, such as having their clothes taken off by classmates, according to the report, released Wednesday....The results showed most of the bullies were classmates, but 12 percent said they were bullied by teachers. A majority were bullied for over a year.
Mameta Endo, one of the leaders of the group which conducted the study, claimed that the blame really fell on teachers with the lack of knowledge about sexual minorities in Japan and the rarity of intervention by the teaching staff in bullying, based on orientation/gender identity or not.
More teachers need to know the issues LGBTs are facing. As most bullying starts at elementary schools, I want teachers to provide children correct information about sexual minorities.
G/O Media may get a commission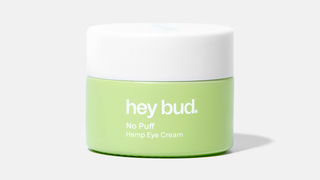 15% off
Hey Bud - No Puff Hemp Eye Cream
File this under the same heading as "water is wet" and "the sky appears blue." As a trans woman who works in Japanese public schools (elementary and junior high schools) as a teacher, that it isn't shocking to me. It simply tells me what I already know. Personally.
And because of my own struggle with the recognition of gender identity in Japan, it also doesn't surprise me that the study found the level of violence, harassment, and abuse towards trans girls is much worse. Aoki refers in her article these trans girls as "boys with gender identity disorder," which suggests a lack of research on her own part, or perhaps a problem with the translation (as Endo also refers to trans girls this way, unless they mean trans boys, but I doubt it).
Abuse periods were especially long for boys with gender identity disorder, with 43 percent saying they were bullied for more than five years.

Despite the victimization, about half said they had no one to talk to about the bullying. The survey found that 32 percent thought of committing suicide, with 22 percent saying they had injured themselves, such as by cutting their wrists.
These numbers won't be surprising to any other transgender person, nor to those who spent time listening to our experiences with depression. I wish I could say that Japan was better about issues like this. It's not. In some ways Japan is actually worse because natural variations in the human condition are seen not just as negative, but can actually be seen as selfish attention seeking. This can be very difficult for children who are simply unable to conform in a society based heavily on conformity. Endo believes it is necessary for schools to specifically address the existence of sexual minorities in lessons.
Schools need to find ways to teach students about LGBTs to prevent those who don't match stereotypical 'masculine' or 'feminine' gender types from being bullied.
I agree. I suggest either "moral education" or "social studies" (neither classes I've taught, but classes I have observed). I would personally like to see this discussion in "moral education," as long as the depiction of sexual minorities is respectful and positive. I can see a good argument for placing these discussions under "social studies," given that it fits in with the disciplines usually studied under that label, but it could also lead to further othering sexual minorities, especially if there is a conflation with foreignness. Such a conflation already exists and further marginalises, invalidates, and makes invisible Japanese LGBT+ individuals.
Bullying is a huge problem in Japan for too many reasons. Something LGBT+ youth in Japan appear to know all too well.
Image via Shutterstock.