Four unreleased Spice Girls tracks were leaked on Soundcloud this afternoon, then quickly removed. In a doubly-cruel twist of fate, they songs were recorded after Ginger Spice left the group, which—as all true Spice Girls fans know—is when the band got a little lame.
Vulture speculates that at least one of the tracks, an R&B version of "Right Back at Ya," was recorded for the 2000 album Forever, and that it was quite catchy. The other previously unreleased songs are titled "Pain Proof," "A Day in Your Life," and "If It's Lovin' on Your Mind."
Flavorwire got a chance to listen to the songs and reports that the lyrics dwelled on motivational topics, including:
"treasure[ing] every day of your life," "liv[ing] beyond your limitations, yeah," and how "sticks and stones may break our bones, but baby, names don't hurt."
Even though the songs are gone from Soundcloud, there's still one on YouTube—for now. Do as the song says and dance like nobody's watching.
[Vulture]
---
G/O Media may get a commission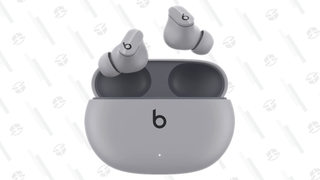 Netflix also suffered a leak, accidentally releasing House of Cards Season 3 several weeks ahead of schedule. The episodes weren't supposed to be released until February 27.
No one got to watch very much before Netflix yanked the episodes back offline, but apparently Episode 1 starts with a presidential motorcade.
After removing the episodes, Netflix teased Frank Underwood fans with a tweet: "This is Washington. There's always a leak." [E! Online]
---
Would you take relationship tips from Taylor Swift? She administered advice to broken-hearted fan who contacted her on Tumblr.
"It's so devestating to come to terms with speaking with someone in the past tense when you used to see them as your present and future," she told her fan.
She also advised the girl to block her boyfriend's number and avoid him—and to never, ever get back together. [Billboard]
---
Gwyneth Paltrow sought Johnny Depp's advice for her "conscious uncoupling." [US Weekly]
Bobbi Kristina Brown may have been planning to leave Nick Gordon prior to her hospitalization. [Radar]
The 911 calls from Bruce Jenner's fatal car crash have been released. [TMZ]
Bachelor Nation thought recently-heartbroken Bachelorette star Andi Dorfman would get yet another shot at "finding love" on TV; she won't. [E! Online]
A Pennsylvania middle school handed out a 50 Shades of Grey-themed word search to its students. [ONTD]
Taraji P. Henson responded to allegations that Empire relies on racial stereotypes, saying art is supposed to "expose this shit." [Bossip]
In case being a duchess doesn't work out, Kate Middleton is taking up the ukulele. [US Weekly]
Growing up in Kim's shadow was tough, so Kendall Jenner resorted to appearing on the cover of Allure for "five seconds" of attention. [E! Online]
A call girl testified that Dominque Strauss-Kahn pressured her to take part in an "animal" sex act. [NYDN]
Images via AP, Getty.