Last spring, the Federal Department of Justice launched an investigation into how the University of Montana and the city of Missoula handle crimes against women after a number of rapes and sexual assaults were reported on or near campus.
Now, the University will receive $300,000 from a Department of Justice grant — part of the old version of the Violence Against Women Act — to hire a violence intervention director and fund programs to help stop violence against women. Awesome!
"This grant is an important step toward demonstrating a zero-tolerance approach to sexual violence against our sisters, daughters and friends," U.S. Sen. Max Baucus told the Missoulian. "The more we can work together to target the scourge of domestic violence on campus and off campus, the better we'll be as a society."
Officials at UM, which recently launched a related program called The Personal Empowerment Through Self Awareness program, welcomed the grant and said the money to hire a new director of student assault programming was crucial.
G/O Media may get a commission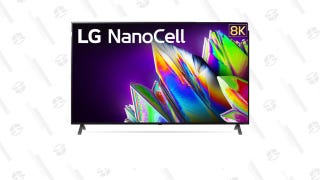 LG 75-Inch 8K TV
"Getting this grant is a very strong statement that we're trying to work proactively on this issue," said Beth Hubble, a professor of women's and gender studies at UM. "It will allow us to expand existing programs on campus that have needed an infusion of funding to really make a difference. We're very happy to get this."
We're very happy, too.
$300K grant to help UM efforts to curb violence against women [The Missoulian]
(Image via Petsa)