The realm of corporate electronic music is notoriously sexist, especially when it comes to festivals. Historically, women DJs have a hard time getting booked on the biggest bills, like Electric Daisy Carnival and HARD Fest, which afford them invaluable visibility, if not a decent paycheck.
This summer, as the DJ and editor Dani Deahl writes at Nylon, HARD Festival founder Gary Richards wanted to make a concerted effort to create a bill that was more gender-equitable, sending her a treatment for their annual announcement trailers that declared "THE FUTURE IS FEMALE." And, indeed, the HARD Summer Music Festival bill includes more women musicians than we're ever used to seeing on any corporate/big ticket electronic festival: producer/DJs like Anna Lunoe, Nina Las Vegas, Berlin legend Ellen Allien, Uniiq3, Sita Abellan, Jubilee and Kim Ann Foxman are joined by singers and rappers like Charli XCX, Tink, Tinashe, and Uffie. Looking at the line-up, I am actually getting butterflies in my stomach—I cannot remember an American electronic music festival that has showcased so many women; normally, there are three or four token women on a three-day bill, if we're lucky. At Electric Daisy Carnival 2017, of 234 performers, just 11 are women, including one in a duo with a man—that is around 4.7 percent.
Except—this is where the needle scratches the record. To promote this lineup, HARD has made a frat-bro video that is clearly meant to be "satirical" in the vein of all their trailers, but is so tone-deaf and so gender essentialist that it threatens any of the goodwill the fest had in staking out a more equitable line-up. Its existence, and the deployment of the heavily co-opted and hollow empowerment phrase "THE FUTURE IS FEMALE," almost makes me wonder if HARD is in fact just trying to cash in on the fact that women are trendy this year. Inclusion for inclusion's sake will be rewarded on its own; it starts to get craven when those promoting inclusion seem to want a pat on the back, or a cookie, or recognition for doing so, when the historically excluded in electronic (women, people of color, queer people, etc) have already been making their own spaces out of necessity.
The "parody" video goes like this: Gary Richards makes a call to "Harvey," a seedy EDM management guy running operations out of a dank basement, to request some "up-and-coming girls" for the bill. He decides that to get his male DJs on the bill, he'll just put "fake tits" on them to pass them off as women (because in this "satirical" estimation all women have tits, and all women are also defined by them). The unfunny narrative is populated by men exclusively for about five and a half minutes, when the aforementioned producer Anna Lunoe makes an appearance as a nonplussed music video director. By the end, Richards appears again with more of the women on the bill and says, "I'm trying to get new women to play HARD Summer this year. All of you can play, too, just be yourself."
Or, how about just booking women without pointing it out, making it a thing? This video, dumb as it may be, is worse than its execution: it's making booking women seem like an extraordinary, token event, one that—given its uniqueness—is free to not occur going forward, if and when supporting women is not so trendy in the popular culture. The video makes women seem like a genre, like if HARD had dedicated an event to exclusively house music. It does not engender faith.
G/O Media may get a commission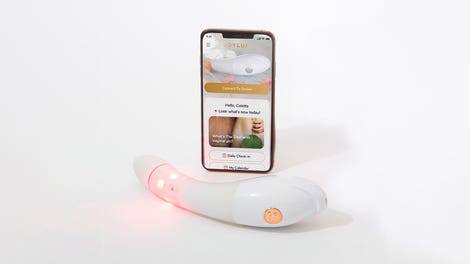 $50 Off
Joylux vFit Gold Device
As Deahl wrote at Nylon:
The players in this unfortunate video aren't here to empathize or walk in a woman's shoes. Putting comedically large, or sagging, or pushed-up prosthetic breasts on men who are acting out a script, with other men, in a safe space, is not satirical. It's a mockery that whittles us down to our sexual parts. I've had to DJ in a cage at a private event, and it made me feel small. I've been grabbed while in a DJ booth, and no one defended me. I've had creepy agents tell me I was "overreacting" when their clients touched me inappropriately, and I questioned my own authority. Watching these same situations played out by men, parading as versions of cis women that are supposed to pass as cis women simply because they have breasts, just—for lack of any witty phrase or retort—makes me sad.
Based on Twitter, it made other women in electronic music sad, too—particularly since women DJs and producers are absolutely the hardest working people in electronic music, struggling against this culture of sexism. BBC icon Annie Mac, who's established enough to speak out, summed it up:
The video's director, Agata Alexander, anticipated the response—she told Nest HQ, "I'm ready for people to be politically correct and find faults in it, but it came from a woman and if I saw it as a woman and a fan I'd be like, 'Fuck ya!'" And:
This is my attempt to trick them into thinking feminism is cool. I'm trying to mind-fuck them, they see their bro DJ Snake put on boobs and they're laughing but not realizing what it is they're liking. Maybe someday later down the line they'll get that their idol is telling them to support women – it's inception. I know that's wishful thinking but I have to think in these ways in marketing: I have to think, "What do these bros think?"
The problem with attempting to execute parody is that it actually has to be funny; otherwise, as we can see here, it just ends up reinforcing the same tropes you're trying to "mind-fuck."