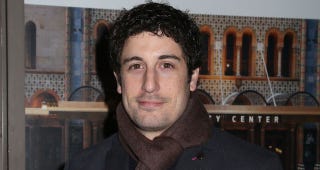 He's not coming back this season (thank grawd!), but actor Jason Biggs isn't making any promises about staying away from Orange Is the New Black in the future. Biggs, currently starring in a play on Broadway told Huffington Post Live the sad news of his possible return:
"It's not a Larry season," he told host Josh Zepps. "They have a lot of characters to service on that show and, at the end of the day, it's a women's prison show. Larry is not a woman or in prison. But the good news is with a show like that, there's always the possibility that he could come back. And I would go back in a heartbeat."
NOoooòöōõôooooooooooooooooôöòóœoooooooooooooo.
Image via AP