A woman in London said she was sexually harassed by an Uber driver who asked if she liked blow jobs and offered to pull down a side street and perform "sucky sucky" on her during her route.
The unidentified woman, who shared emails of her exchange with Uber about the incident with Newsweek, described the March encounter as scary. According to Newsweek, she first contacted Uber after the hellish ride telling the company "Driver was very forward and quite creepy. Asked me if I wanted him to go down on me. Not cool."
A marketing manager who responded to her complaint via email apologized, referring to the incident with the driver as an "intrusive experience." The marketing manager then told her the company was "already investigating this with [the driver] and I can assure you that the necessary actions will be taken to avoid a similar incident in future." The email she received from the company concluded with a thank you to her from bringing the issue to their attention. "[While] painful to hear, it's the best way for us to address any incidents like this," it stated.
Dissatisfied with the company's lukewarm response, she wrote a longer description of what occurred:
She described how, having initially got in the back of the cab the driver invited her to sit in the front, which she agreed to do, feeling car sick. He then started asking about her relationship status before using increasingly inappropriate language:

"Towards the end of the journey he was asking if I liked blow jobs, saying that he was very good at going down on girls or giving "sucky sucky" to girls and did I want him to do it to me. He even suggested that he could pull over into a side street and do it now if I wanted, which was I think the scariest part of the drive."

She detailed how, as a woman alone in the car, she felt very uncomfortable and if she hadn't trusted the Uber name she would have got out the car. She concluded the email:

"I am aware that this kind of thing becomes very much a he-said, she-said kind of deal, but I did want to make you aware of it as I feel that people really trust the Uber name (as I do) and my trust was completely violated. I am pretty relaxed and outgoing and I feel that I can take care of myself, and if I felt so uncomfortable I dread to think how a more timid girl would have felt. I won't be taking this any further but I do implore you to take this quite seriously as I worry for other women who could find themselves in a similar situation."
G/O Media may get a commission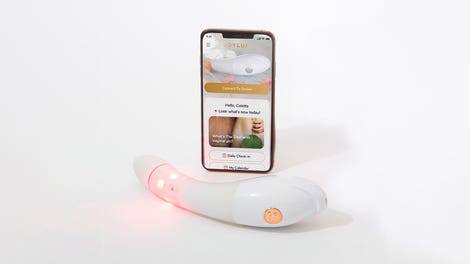 $50 Off
Joylux vFit Gold Device
She then received another response from a different Uber representative, which said the company was "shocked" to learn about her experience. According to Newsweek, the email stated "while things like this should definitely not happen in the first place, in the unlikely event that they do occur we have the full details of the driver, trip and rider on our systems so that we can immediately investigate any concerns raised."
The company then offered her a £20 ($31) credit, signing the email "Sorry again for such an un-Uber experience."
When Newsweek contacted Uber, they would not confirm if the driver had been fired, instead saying "driver in question is no longer on the Uber platform". The company also declined to give specific figures about other similar reports they had received in London, pointing out that they do offer refunds when customers report "a negative experience."
"We take all allegations incredibly seriously," a spokesman replied. "Any driver who is accused of acting inappropriately is suspended from the platform while an investigation is undertaken. We would of course refund a trip if an incident had occurred or the rider was not happy."
Last week, an Uber driver in New Delhi, India was arrested for raping a passenger. In July, an Uber driver in Seattle was accused of raping and kidnapping one of his passengers. In November, the company came under fire after one of its executives suggested launching a smear campaign against journalists who dare to point things like this out. In the last few weeks, Spain, Thailand and the Netherlands have launched measures prohibiting the use of the app in those countries.
Image via AP Images.