Roxana Saberi, the Iranian-American journalist jailed in Iran for allegedly spying for the United States, has vowed to continue her hunger strike until she is released, though her father says she is "very weak."
Saberi was sentenced to eight years in prison after a one-day trial behind closed doors on April 18, according to the Associated Press. She was held in late January for buying a bottle of wine, then arrested for reporting without press credentials. Later she was charged with espionage.
Saberi's parents were allowed to visit her in Tehran's Evin prison yesterday for her 32nd birthday. ''Roxana is very weak and pale," said her father, Reza Saberi, ''She is only drinking sweetened water to remain alive.''
Saberi, a dual Iranian-American citizen, was born in the U.S. The former Miss North Dakota attended Northwestern University and moved to Iran six years ago, where she freelanced for National Public Radio and the BBC. Iranian officials revoked her press credentials in 2006, but NPR says she continued to file short news items. She was also working on a book about Iranian culture.
After her detention, U.S. officials immediately demanded Saberi's release, and her case has been a source of tension between the U.S. and Iran as President Obama attempts to ease relations with Iran. CNN reports that last weekend President Obama said he is, "gravely concerned with her safety and well-being," adding, "she is an American citizen, and I have complete confidence that she was not engaging in any sort of espionage." During an interview last week, ABC News' George Stephanopoulos asked President Mahmoud Ahmadinejad if he would accept President Obama's word and release Saberi as a goodwill gesture. Ahmadinejad said, "Let's see if our judiciary allows for that, sure. But if they do not allow for that, no. I am afraid not." Saberi's lawyer appealed her case on Saturday and a spokesmen said Iran's appeals court would reconsider her verdict.
G/O Media may get a commission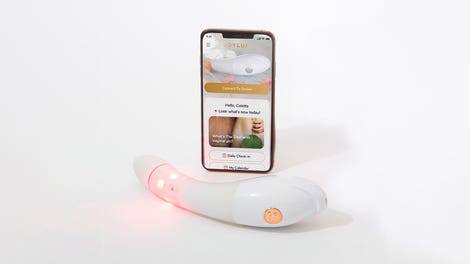 $50 Off
Joylux vFit Gold Device
Many people are campaigning for the Iranian court to commute her sentence. The Obama administration said it is working with Swiss intermediaries in Iran to secure her release and Jesse Jackson has offered to "travel with a delegation to Iran, if we are permitted, and make an appeal for her freedom," says CNN. Iranian filmmaker Bahman Ghobadi has also released a letter claiming that he and Saberi were engaged; in the letter, reprinted in Time, he says that she wanted to leave Iran, but he convinced Saberi to stay until he finished his film. He wrote:

It is with tears in my eyes that I say she is innocent and guiltless. It is me, who has known her for years, and shared every moment with her, who declares it. She was always busy reading and doing her research. Nothing else ...

And now my heart is full of sorrow. Because it is me who incited her to stay here. And now I can't do anything for her. Roxana wanted to leave Iran. I kept her from it.
Father Says U.S. Journalist Jailed In Iran "Very Weak" [The Associated Press]
Jesse Jackson Offers To Go To Iran To Help Free Journalist [CNN]
George's Bottom Line: Journey To Tehran [ABC News]
Roxana Update: Letter From her Friend [Time]