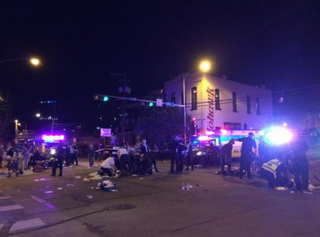 Two people are dead and at least 23 people are injured, after a car reportedly "gunned" it through a crowd of pedestrians at the SXSW Festival in Austin, Texas.
Austin Police Chief Art Acevedo told reporters the incident stemmed from an attempted DWI stop, according to KVUE.
[O]fficers initially tried to pull over the driver at a gas station on the Interstate 35 service road. The driver fled the wrong way down Ninth Street, which is a one-way street, and turned onto Red River, hitting pedestrians at a "high rate of speed."
According to Austin police, a suspect is now in custody.
The incident occurred at 10th Street and Red River outside the Mohawk club. According to the Austin American Statesman, a witness reported seeing the car in question involved in a police chase:

John Wickham, owner of Elysium, was on the upper level of the Mohawk, and told the Statesman he saw a car coming down the street fast with a police car in pursuit. He saw the car hit several people. He said he did not see the police car hit anyone.
The Statesman spoke to one man who was struck by the car:
Scott Jakota from Indiana said the car that came through the barricade was a gray Prius, and he was one of the first people hit. He said the driver gunned the car, "and I was thrown up in the sky." He appeared to have a leg injury and was being helped by his friends.
Acevedo said of the incident "We owe it to the victims and their families to gather the evidence we need to bring them justice."
This is footage shot in the aftermath of the crash by Socrates Villarreal:
Image via Twitter.