Stories of discrimination faced by black users of Airbnb have been common on the Internet lately, largely shared under the hashtag #Airbnbwhileblack. Airbnb has banned some hosts for hate speech and violating terms of service, but their response has overall been slow.
Entrepreneurs Ronnia Cherry, Stefan Grant, and Rohan Gilkes have jumped on this opportunity to fill in one of the race gaps of the sharing economy. Cherry and Grant registered Noirbnb.com after having police called on them in the space they were renting via Airbnb in Atlanta:
And Gilkes started Noirebnb.com after unsuccessfully attempting to book a room via the site and eventually having to ask a white friend to do it for him. Once the sites became aware of each other, there were discussions about merging, but the companies are currently at different stages of development.
Cherry and Grant pitched their concept for Noirbnb directly to Airbnb after being flown out to the San Francisco office, but:
G/O Media may get a commission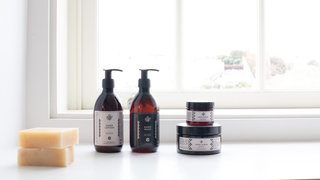 Exfoliate and Hydrate
The Handmade Soap Company
Their site went live last Friday.
Gilkes is still working on Noirebnb, which he says should be up in 6-8 weeks. New York mag reports that, just as it's harder for black Airbnb users to get housing, it's harder for black Airbnb competitors to get funding:
While all are optimistic, finding VC money can be difficult for founders of color. (A 2010 data study found that 87 percent of VC-backed founders are, not surprisingly, white.) Given that Airbnb's business model operates in a bit of a legally gray area (most New York City residents who rent on the site are effectively breaking the law), capital is going to play a key role if either of these websites is to succeed. Disrupting the hotel industry and fighting housing laws costs some serious cash. (By comparison, Airbnb is valued at over $25 billion.)
Though perhaps the air's too thin for two competitors in this Airbnb-saturated space, it seems like there'd be plenty of people who would be interested in hosting and using a site that supports black travelers, especially when stuff like this keeps happening elsewhere:
---
Image via Noirebnb.