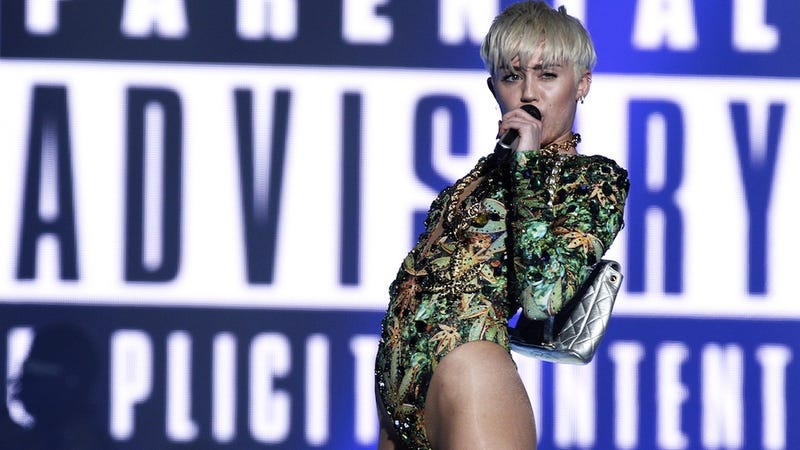 Time to sit down and figure out what's happening in the Crimea, America, because it's finally got something to do with self-appointed Ambassador of Twerk Miley Cyrus. She's booked to perform at a sold-out venue in Finland, but the gig could run into trouble with newly instituted U.S. sanctions on Russia.
That's according to the Financial Times. See, Ms. Cyrus, Justin Timberlake and other Americans are supposed to perform at the Hartwall Arena in Helsinki, in shows booked by the U.S.'s Live Nation. But the venue, however, is (as the FT puts it) owned by "a Finnish holding company controlled by three Russians singled out for US retaliation." That presents a potential problem:
According to the wording of the new US sanctions and lawyers specialising in this area, Live Nation should theoretically be barred from completing any financial transactions with Helsinki's Hartwall Arena unless it first receives special dispensation from the US Treasury.
"If [Live Nation] still has to pay money for the use of the venue that could be a problem," according to a London lawyer. In other words, the blameless Finns could theoretically be deprived of their Timberlake and Bangerz shenanigans, thanks to the larger geopolitical conflict. I think this is just like War and Peace?
"We are currently reviewing our portfolio and we will work to ensure the US sanctions against the identified Russians are upheld," Live Nation told the FT.
Better spend the rest of the morning watching BBC World News, just in case the earthquakes in Chile somehow impact Beyonce.
Photo via AP Images.