"Oh fucking shit," Julianne says to me. We've been at this New York magazine-sponsored wedding expo for half an hour, and somehow it's taken us this long to notice the massive open bar in the middle of the room. What could have possibly distracted us from the promise of endless free alcohol?
Ana Gasteyer Satirizes the Girl Boss in 'American Auto'
The promise of getting married, a thing neither of us had truly wanted before attending an event that neither of us really wanted to attend.
I've never thought much about my hypothetical wedding, unless you count the fake weddings I staged when I was around the age of four. The only reason I wanted to get married then was because I'd figured out it was a good way to guarantee you were the center of attention (I was wise beyond my years). My best friend from around the corner, who was conveniently going through a mute period, would serve as the groom while my mother officiated. I would walk down the aisle in a beautiful bathrobe from my dress-up box with a curtain on my head, basking in the joy of having all eyes on me.
Since those halcyon days, the only element of the wedding industrial complex that has ever held my attention is New York magazine's biannual issue devoted to the subject, though not necessarily because it had anything to do with weddings. I enjoyed it because it was published by New York magazine, contained very nice photos and was focused on celebrations held in the best city on Earth (yes, those celebrations happened to be weddings, but that was irrelevant). So when the press release came to our inbox inviting us to a wedding expo hosted by New York, I said yes before realizing that I wasn't even quite sure what a wedding expo was.
G/O Media may get a commission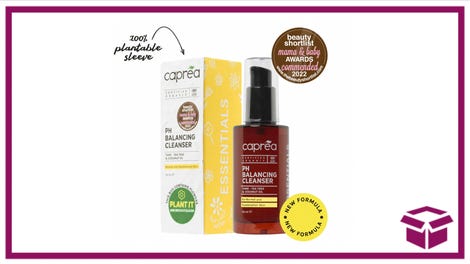 Save $9
47% Off Essential Organic PH Cleanser
Sustainable beauty
Caprea's Essential Organic PH Cleanser is just $10 with promo code TEN. Normally $19, this foaming face wash is crafted with organic Monoi oil. It's meant to target the production of oil secretion while protecting your skin against air pollution. Normally $19, you can save big on this richly-lathering face wash while supporting a brand that keeps the environment top of mind.
Julianne jumped at the opportunity too, despite her equal lack of interest in the institution of marriage. ("You had me at 'cake tastings,' sadly," she RSVP'd.) We would go to this wedding expo. How bad could it be?
We weren't even there for an hour before I was ready to get married tomorrow.
---
The day of the expo, I was nervous to the point of dread. As far as I knew, this expo was definitely not going to be my kind of scene. "You will be tired as hell by the end," Hillary said, herself a former attendee. "I HIGHLY recommend it," agreed Kelly, who said there'd be a lot of free food and drinks. "Most of the wedding events aren't like that but the New York mag one is luxe." Luxe? Okay, yes, I could brave any storm so long as it's luxe.
We were advised to act as if we were brides-to-be or at least involved with wedding planning, as the vendors only really care about potential customers. I'm a very bad liar, however, and I was concerned that everyone would see right through my attempts to talk like an excited fiancée who's already settled on a venue and a date. I needed an easier approach, a low-risk lie. A gentle fib.
"I'll just say I'm thinking about getting married," I told Julianne. "Like, my boyfriend and I haven't officially gotten engaged but 'it's never too soon to plan.' You can be further along in the planning of yours, like you're actually officially engaged—but we're both going to get married around the same time, roughly winter 2017." I needed to look the part, so I put some shitty rings on my right hand with the plan to switch them over to the other hand later. I wore my "I could be getting married" outfit (note: no sneakers). I hoped these aesthetic tweaks would do the trick.
Julianne donned "a weird skater dress but whatever."

Immediately upon entering the nondescript event space in the Flatiron District, I realized I had one advantage: I watched all of Say Yes to the Dress: Bridesmaids last winter in an attempt to understand and sympathize with the increasingly large number of my friends who were dealing with the various stresses of being a bridesmaid. My basic-cable expertise meant I immediately recognized the display for Kleinfeld, the infamous bridal shop featured on the show. I knew something about the wedding industrial complex. I was slightly prepared.
It quickly became clear that the trick to navigating the wedding expo was confidence and, lucky for us, confidence was being given away for free in liquid form. Though it took some time to discover the main bar, we did find a mini-bar serving specialty mixed drinks. Nabbing a bourbon-lemonade-something for each of us, it took Julianne and I a moment to realize that our drinks hadn't come from an actual bar—it was just another vendor table. Except this table was special: it was giving away free cocktails to promote the event space at the top of the new Freedom Tower, where you can, yes, get married.
I started drinking more quickly, because both love and terrorism make me nervous.
We made the rounds through countless vendors. One was for a wedding boutique that had just expanded to New York and is noteworthy because of [insert something that sucks about buying your wedding dress] [insert something about sample sizes] [insert something about not having to make an appointment]. I nodded enthusiastically like I totally understood these inconveniences. Manning the table was a kind woman with a wide smile; she asked Julianne if she'd found a dress yet and how she was feeling about her forthcoming wedding.
"Ugh, I don't know. I'm stressed just thinking about how large my family is and how many of them will invite themselves to it," Julianne lied. She was a pro.
"Oh honey, don't worry about it," the woman responded. "Just remember that it's the last day you'll ever had to see any of those people again." It was clear she'd used this line before but we nodded along, nervously laughing as if really were dreading having to see all those awful relatives at our pretend weddings.
We breezed past some of the most insanely over-the-top table settings I'd ever seen in my life before getting sidetracked at the Fred Astaire dance class table, which was only notable in that I learned Julianne used to teach there. After this breaking news, we moved on and were briefly convinced that a wedding at one of New York City's zoos or aquariums was a good idea even for just for a simple party ($4,000 was a figure floated). Then the real fun began: Julianne discovered a man who would blow up a photo of your face, silkscreen it onto a canvas, and cover it in glitter.
"Do you know who Andy Warhol is?" he asked us, as I pinched Julianne's back and tried to suppress a mean laugh. Julianne didn't let me distract her: "I really want one just of me," she said to her new best friend, who had to be convinced that the two of us were getting married, just not to each other. (This was not the first time this would happen over the course of the evening.)
Silkscreen Glitter Man's company, Park Slope Press, also sold invitations, but it was the paintings that Julianne was fixated on. "Could I get one bigger than this one?" Julianne asked, pointing to an approximately three-foot wide canvas in front of us, which was adorned with an anonymous couple's black-and-white smiling face beaming in glitter (a technique, our new friend explained, that had been pioneered by Warhol himself). "Just of my face, to hang right above my bed like Paris Hilton."
Our new friend did not seem deterred by Julianne's disinterest in including her "fiancé" in her portrait. "I also want to look at a beautiful woman when I wake up in the morning," he said, pushing some sample images into our hands before unsubtly ushering us away.
It was at this point that we stopped for some "real people" snacks. (Despite the endless small cupcakes—and donuts, which are clearly so hot right now—available at every turn, dessert before dinner seemed unwise.) We turned to see the real open bar beckoning us. I'm not sure how to put this without making myself sound like either an alcoholic or a 17-year-old at her grandmother's 90th birthday party, but this was the closest I'd gotten to feeling truly relaxed all evening.
One New World Trade Center drink down and a fresh glass of chardonnay in hand, things got a whole lot easier. Wooed by the promise of getting married on a boat (a boat!), Julianne and I spent ample time talking to a real live captain who convinced us that getting married at the zoo was totally pedestrian: a wedding on the water is where it's at. I could easily fit my 100-person ceremony on a private or shared yacht—even in the winter! People love watching the snow fall!—and they certainly had boats that could accommodate Julianne's needs, what with her (still imaginary) wedding that was now going to be at least 350 people.
There were models milling about the expo in wedding dresses, but that wasn't enough for an event of this caliber. There was a proper runway show, which consisted of two models, each walking up and down the runway over and over in rotation. What they were wearing seemed...fine? I guess bejeweled dresses are in this season, as is wearing black, which intrigued me since I am a witch. But our attention to the runway was short-lived, as it was located directly next to the Fig & Pig Catering table, AKA the best food I've ever had in my life. "I literally ate a zucchini roll while I held a macaroon in my hand, and then I ran up and ate a deviled egg," I said to Julianne as we walked away from a woman laughing at us.
Rejuvenated with food and about ready to get our third drink, Julianne and I were full of confidence—perhaps too much. "I keep seeing people glance at my hand," she said of her left appendage, which was sans ring. I suddenly realized that I hadn't even bothered to move my fake engagement ring to my left hand, where it belonged; I attempted to casually switch them over as Julianne covered her bare hand with her coat. We were convinced that we were doing a great job lying about our lives, and in the process, we were becoming Those Women: judgmental of everything around us as if we really knew what was and wasn't good enough for our supposed nuptials, like the lackluster bridesmaid dress display with their unbelievable claim that they were the creators of "original wrap dress." They didn't even have online ordering!
"I'm already being tainted by this environment," I said to Julianne, who was in the process of turning her nose up at the group of women wearing flower crowns, as we paused to take a photo of ourselves in one of the many photobooth options available. Then we tut-tutted at Uber's display, which was decidedly lacking any commitment to a wedding theme. Um, hello?
Please note the dude photobombing us in the bottom right image. He was very pleased with himself.
But the holier-than-thou attitude grew tiresome. I could feel Julianne reaching her the end of her rope as I talked to a woman about how I really enjoyed her jewelry because I'm more into metals than stones, something she said she could tell because of the fake wedding rings I was wearing on my left hand.
"I didn't love everything they had but I loved their philosophy," I said of the jewelry as we walked away.
"I feel like you were figuring out some stuff about yourself," Julianne replied, and I knew then that we had to go. Gathering our huge swag bags—which contained a small pecan pie I'd eat, very hungover, the next day and a necklace that says "Best Bitch" on it that I haven't taken off since—we stumbled out into the street. It was 7 pm and the sun was slowly starting to fade in the sky. We had been in the expo for only an hour and a half, but to me, it felt longer (to Julianne, that was far too much time). A photographer who had not been invited to the expo handed us his card as we walked out. "It's so real out here in these streets," said Julianne of his "reverse scalping." I felt drained, as had been predicted, but also revitalized. It turns out that lying was pretty easy: numerous people really seemed to believe that I was getting married. If they believed it, who was I to disagree?
"Which of us should write about this?" I asked Julianne, as we slowly walked down the street to the train. "Probably you," she replied. "You took more notes and I also feel like you were more excited."
I furrowed my brow. "Maybe I was just drunker," I said hopefully. The idea that a wedding expo could have turned me from a marriage-ambivalent human to a full-on convert made me highly uncomfortable. The weird feeling lingered, even the next day, as Julianne and I dug through the stuff purported to make us shine bright for our big days, like a small sample of StriVectin and a bottle of some stuff that she said "makes my face feel great."
Two days later, the wedding expo hangover had finally passed. I paged through the New York Weddings issue while I was on a train back from a brief trip to upstate New York, testing myself. Did I still feel convinced that my probably-immediately impending wedding was a great idea and would likely be the most magical day of my life? The magazine's stories were very nice, the dresses very white. The advice about how to pick out an appropriate wedding ring (black diamonds are very in right now) seemed apt.
But there was no complimentary wine, no zucchini balls, no free "Best Bitch" necklaces. No one was telling me how amazing it would be if I got married on a boat going around Manhattan as the snow fell, or whether it was possible to be near the Penguin House for my reception.
I put the magazine down and fell asleep.
Expo images via Getty. Swag bag/table setting/photo booth images courtesy of Bridezilla Kate.

---
Contact the author at dries@jezebel.com.