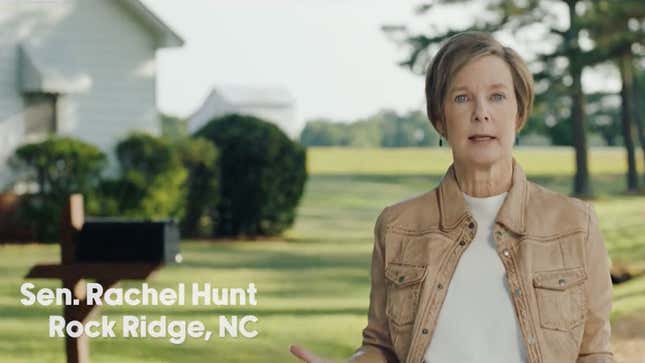 Since purchasing Twitter last year and pillaging two-thirds of its value, Elon Musk has prided himself on making the social platform a free speech haven—at least for transphobes, white nationalists, and terminally unfunny fans of his. But among the many predictable problems and double standards regarding the platform's treatment of marginalized people and progressive causes, HuffPost reported on yet another on Thursday: Twitter is blocking political ads for merely "[mentioning] abortion advocacy," as one employee put it in an email to a Democrat in North Carolina.

Uterus Weekly: 15-Week Abortion Bans
State Sen. Rachel Hunt (D) is running for lieutenant governor of North Carolina, and a large part of her campaign is pushing back on the state's recently passed 12-week abortion ban. This week, Hunt told HuffPost she realized a new video ad in which she highlights her support for abortion rights and addresses the 12-week ban had been rejected by Twitter, which is refusing to promote the ad.
In an emailed explanation for this decision, an employee told Hunt's campaign: "Ah yes, the mention of abortion advocacy is the issue here." (Nothing says Elon Musk's Twitter more than responding to a business matter with the diction equivalent of a fedora, ah yes.) The employee implied that there may soon be some change to the policy, telling Hunt's campaign that Twitter might have "some good news to share on that front" in the next weeks. But the employee concluded, "For now, though, you still won't be able to message around that topic." (That change would certainly be in Twitter's best interests, as its horrific content moderation standards have resulted in advertisers fleeing the site en masse.)
Twitter didn't immediately respond to a request for comment from Jezebel (other than a poop emoji, which is its pitifully cringe automatic reply to press inquiries).
Hunt's own tweet of the video that she wanted to promote in paid advertising form has remained up (see below)—and as have the ads for erectile dysfunction products, the promoted tweets of Twitter Blue-subscribed grifters, crypto scams, and promo for Tucker Carlson's new Twitter show, which my feed is littered with. I would welcome an ad from a politician substantively engaging with a life-or-death issue.
In the ad in question, Hunt praises the life-changing power of abortion rights: "When Roe v. Wade came to rural America, women woke up to a different world. A world with a bit more time. …The important decisions didn't get easier, but they were hers." She continued, "I'm running for lieutenant governor because the Republican plan isn't this year's 12-week abortion ban—it's next year's total abortion ban."
"I find it deeply concerning that Twitter considers the topic of protecting our fundamental freedoms as prohibited content," Hunt told HuffPost. "Regardless, I will continue to focus on sharing my message with voters in every community in every part of the state."
The rejection of Hunt's ad comes as abortion is an especially hot-button issue this election cycle, a year after the Supreme Court overturned Roe. On the campaign trail last year, Democratic candidates trying to message about abortion in their ads faced similar challenges: One candidate in New York told Jezebel his ads were being rejected by Hulu for invoking "sensitive" issues like abortion and gun safety. A campaign source said that Hulu told them his ad could run if it swapped out its opening words—"from abortion rights to gun laws to climate change"—for "permissible ones such as taxes, infrastructure, and democracy."
At an increasingly perilous time for our rights, advertising around abortion is being subjected to ridiculous scrutiny, not even just on the campaign trail. Last year, shortly after Roe was overturned, activists raised alarm around ads for abortion pills being rejected from companies like Spotify. Meanwhile, some watchdogs report Meta is allowing medically inaccurate ads for "abortion reversal," and Google recently raked in $10 million in ad dollars to promote anti-abortion clinics that endanger and spy on abortion seekers.
There's greater urgency than ever for people to know which candidates will protect their rights (and how to safely access abortion-related resources). And companies like Twitter are willfully standing in the way of this.