Amber Rose walked in on Wiz Khalifa during a threeway with twins, according to a friend of hers.
Reports that Khalifa and Rose had already separated and were talking about ending their marriage when his infidelities took place, are TOTAL BULLSHIT, according to Peter Rosenberg, a DJ for Hot 97 and "confidant" of Rose. On Tuesday, Rosenberg spoke on air about the shocking moment Amber walked in on the tryst. Via to the New York Post:
"Amber walked in on him with two women at the same time," he said. "Twins, twin sisters, twin biological sisters." Rosenberg also showed a since-deleted Instagram post of the rapper with the twins, fashion designers Jas and Ness Rose.

Rosenberg also contradicted claims that Amber Rose stumbled across the infidelity at a residence that Khalifa acquired after moving out of the couple's house.

"It was a home. It wasn't some new home that was just his," he said. "It was a home that he had. That she slept in. That's how she got in. She had a key. This wasn't some separate thing. It's a place she goes to."
Rosenberg also called the twins "pretty busted." Like we said, love is dead.
---
A day after being blamed by Walmart for the injuries he got when one of their trucks hit his vehicles, Tracy Morgan is firing back. " My friends and I were doing nothing wrong." [Yahoo News]
G/O Media may get a commission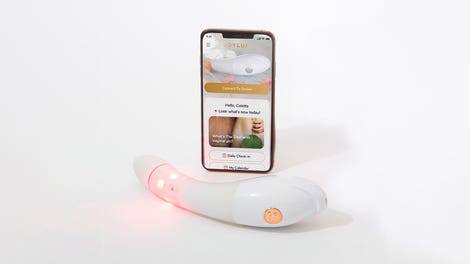 $50 Off
Joylux vFit Gold Device
Justin Bieber continues to be worse than a soggy liverwurst sandwich left out in the rain and then dropped in a mud puddle and then someone steps on the sandwich in the puddle. HE IS WORSE THAN THAT. [Uproxx]
Joe Manganiello, Sofia Vergarra, and Channing Tatum were all in the same establishment together. The joining of that much beauty in one room was all the Dark Lord Shelth needed to complete the Wrath of the Fire Moons and all at once the Earth was swallowed up into a giant empty blackness. [PopSugar]
Community fans will be disappointed to learn Yvette Nicole Brown will not be returning to the sitcom for its sixth season. She reportedly asked to be let out of her contract to spend more time with her sick father. [Vulture]
Liam Hemsworth said there is no bad blood between him and former love Miley Cyrus. He said he was a "devil child." I immediately pictured this. [Nylon]
Don't make any plans to get a time share with David Fincher because he is a busy man. He has just signed on to adapt the UK series Utopia with Gillian Flynn. Fincher plans to direct every episode of the first season, too. Seriously, he will be so excited to get into that place in Boca Raton you sent him those brochures for but then he will get super flaky and back out at the last minute because of "work." He was like that when we tried to buy the group discount package at Schlitterbahn. [Slashfilm]
Billy Idol wrote a memoir called Dancing with Myself in which he details the history of his drug abuse and more. I am afflicted with a serious leftover 80s crush on Idol. I WILL DELETE YOUR JOKES, HE WAS MY TRUEST TRUE LOVE. [Time]
Ciara is the latest victim of the person who is definitely not a prankster. This will depress you—TMZ says police in Paris have no plans to do anything about him because its "not important enough." [TMZ]
Sam Hall, a writer for Dark Shadows and One Life to Live, has passed away at the age of 93. [Hollywood Reporter]
BILLY I LOVE YOU FOREVER!
Image via Getty.