Empire's Season 2 premiere was an auspicious one, to say the least. In the first several minutes, a host of cameos by people (including Rev. Al Sharpton, André Leon Talley) and designers (two mentions of Tom Ford, plus Gucci, albeit "last season") exemplified how much cachet the show has garnered after just one season, quickly rising to the most fun, juiciest, and based on empirical evidence, most-tweeted show on primetime.
So it's interesting and exciting that, more than ever, its woman characters are ever more prominent than they were in the first season, even beyond the interminable allure of Cookie's hard-shelled power. Gabourey Sidibe's Becky, for instance, got more lines than she may have ever had; her delivery of a no-bullshit executive assistant who, it seems, has gained more agency with her boss Lucious Lyon presently indisposed. (Her line "SCUSE ME! SCUSE ME!," and the way she delivered it, represents my every aspiration in life.) We were introduced to a new character played by Marisa Tomei, the roughshod lesbian billionaire hilariously named Mimi Whiteman, whose business acumen (and incredible Col. Sanders ties) is as fierce as her libido.
Most interestingly, a new symbiosis has developed between Cookie—Taraji P. Henson compelling as ever—and Boo Boo Kitty, aka Anika (Grace Gealey). Their power struggles for Empire, and the baby-fresh affections of Lucious, have evolved into a mutual interest in preserving the company, which led not so much to a friendship but to a resignation that they're going to have to work together to get the job done.
It's manifested most amazingly during a femme lesbian party Cookie throws for Mimi in a hot-tub penthouse that might remind New York's most downtrodden clubgoing depressives of Le Bain. Cookie, in an effort to both secure Mimi's investment and spurn her advances, has so many hot and scantily clad women in one room, but Mimi's not the type to go for a regular chick. Attracted to power, she eyes Boo Boo Kitty with one of the spazziest shoulder bops television ever did see, with what appears to be an actual attempt at the Shmoney Dance as Bobby Shmurda's 2014 Brooklyn anthem "Hot Nigga" plays in the background.
Anika recognizes her duty: she must get it in to save the company. Money, power, respect; sometimes they are exchanged. Thus results in the obligation twerk in question, a screwed-down booty tooch that might function with a dancehall track but to "Hot Nigga" is just phoning it in, Mimi Whiteman blazing with a bachelorette party grin-and-two-step if you ever did see one.
G/O Media may get a commission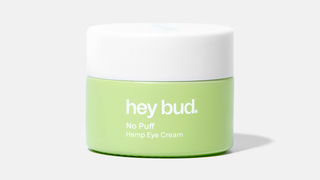 15% off
Hey Bud - No Puff Hemp Eye Cream
Juiciest of all, the obligation twerk leads to the coldest stage whisper in recent memory in a later scene. "I thought I told you to sleep with her?!" Cookie snipes. "I did!" snaps back Anika. The slow realization that they were triply screwed sinks in, and Empire's ruthlessness clicks in yet again, making a strong case for fall being the best season.
---
Contact the author at julianne@jezebel.com.
Image via FOX