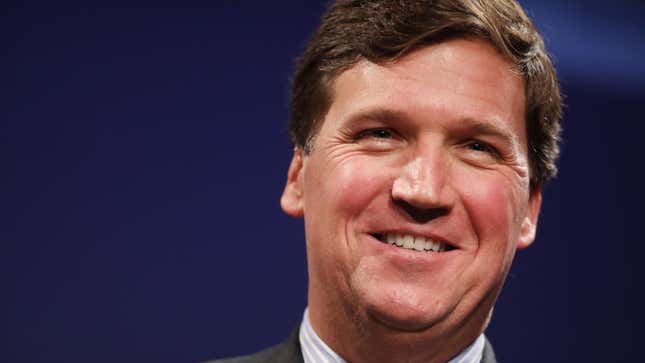 Tucker Carlson, the former Fox anchor turned sad little Twitter vlogger, revealed in a Tuesday conversation on The Megyn Kelly Show that he wasn't particularly moved by his birth mother's death in 2011. Explaining why he didn't visit his mom, Lisa Lombardi, when she was dying, Carlson—whose parents got divorced when he was 6—told Kelly, "Our mom was not a fan of us, and was pretty direct about it."

America's Favorite Pasttime: Dunking On Dr. Oz
He continued, "That obviously hurts when you're little, but then I realized, you can't control it. … Your mother doesn't like you, OK, boo-hoo. It sounds really terrible." As for his mother's death and his reaction to it, Tucker recounted:
What eventually happened—I got this call, "She's dying," in this weird little town on a farm that she lived on in Southwestern France, she's basically French at this point, she spent her life there. "You should go visit her." And so I called my brother and he's like, "What? No. My son's got a soccer game." And I was like, I feel the same way. I don't know this person. This sounds cold or whatever, but I had already kind of made my peace with this, over many decades, 35 years.

I didn't fall apart—at all. I went to dinner. I mean, I felt sad for her I guess. I don't know much about her. She was an artist, she had shows. OK, I guess. But she wasn't part of my life, I wasn't part of hers.
The disdain in Carlson's voice when he talks about his mother is palpable. And, as some have speculated, the story of their estrangement (and his obvious hard feelings) about it has all the trappings of a proper villain origin story.
As Carlson and those close to him have previously explained, Lombardi and he became estranged after she and his father separated. Carlson's father got remarried to Swanson frozen chicken heiress Patricia Swanson, who legally adopted Carlson and his brother. After Lombardi's death in 2011, her handwritten will was uncovered in 2013, and in it, she left Carlson and his brother just $1 each. To be clear, this wasn't for any lack of wealth on Lombardi's end—she, too, had been an heiress from a wealthy family. She left Carlson just $1 because she doesn't seem to have liked him. Fair!
​​"Lisa [Lombardi] was basically sort of a hippie and a free spirit. She was very liberal and she did not agree with Tucker's politics," an attorney who represented Lombardi's husband and his family told Insider last year. "But she stuck the will in the book, everyone forgot about it, and then she passed away."
Before the will was uncovered, Carlson and his brother received about a third of Lombardi's assets (split between them and her surviving husband, Michael Vaughan). A brief legal fight ensued between the Carlsons and Vaughan after the discovery of Lombardi's handwritten will, but a court ultimately ruled several times that the Carlsons could keep the wealth they'd inherited, despite the fact that Lombardi had written a will leaving them $1 each.
Carlson's disavowals of Lombardi and his emphasis on their lack of a relationship, of course, would probably mean a lot more if he and his brother hadn't fought so hard to inherit her wealth nonetheless. But either way, it does sort of explain his deeply ingrained hatred of women.