Having snuck past the crowd waiting for him in the ground-floor lobby, president-elect Donald Trump took questions from reporters at the New York Times Tuesday, whose coverage of him he has deemed "not nice." Mike Grynbaum and Maggie Haberman, among others, livetweeted the meeting. Let's see how what he told the Times matches up to what he's said in the past.

On the Electoral College
"The Electoral College is actually genius in that it brings all states, including the smaller ones, into play. Campaigning is much different!" Trump tweeted last week. "If the election were based on total popular vote I would have campaigned in N.Y. Florida and California and won even bigger and more easily." (Four years ago, after Barack Obama won reelection, Trump advocated for a revolution, calling the electoral college "a sham and a travesty" and "a disaster for a democracy.")
On black voters
G/O Media may get a commission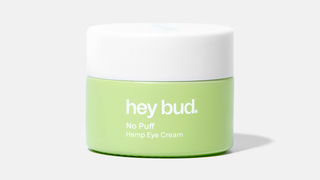 15% off
Hey Bud - No Puff Hemp Eye Cream
Black voters did not turn out for Hillary Clinton in the same numbers that they did for Barack Obama in 2008 or 2012, but that does not mean that they voted in any great proportion for Trump, either. This may in part be due to a lack of enthusiasm for the Democratic candidate, but it may also be a result of new legislation limiting underrepresented communities' access to the polls. From a PBS Newshour report this weekend:
Fourteen states installed new restrictive voting laws, which have historically targeted minorities, before the 2016 election, including in Wisconsin and Ohio. And this general election was the first since the Supreme Court struck down a key provision of the Voting Rights Act in 2013 that required federal approval on any state election law.

Neil Albrecht, executive director of the Milwaukee Election Commission, said voter identification laws hurt turnout in the city's high-poverty districts this month, noting that 41,000 fewer people voted there in 2016 than in 2012.
However, the Brennan Center for Justice, nonpartisan law and policy institute, said there has not been enough data collected to determine the laws' impact on the election.
Nearly three-quarters of black voters think Trump's election will lead to worse race relations, the Pew Research Center reports. About 17 percent think it will make no difference and five percent think it will make race relations better.
On the so-called "alt-right"
Asked by the Times' executive editor Dean Baquet whether he thinks his campaign has energized the "alt-right" movement—a collection of white nationalists, misogynists, and authoritarian nihilists—Trump says, "I don't think so, Dean."
Stormfront—a web forum founded by a former Ku Klux Klan leader in 1996 for neo-Nazis and other white supremacists—celebrated former Breitbart News executive chairman Steve Bannon's appointment as White House Chief Strategist: "It doesn't get any better than this."
"Strategist is the best possible position for Steve Bannon in the Trump White House," Richard Spencer, a neo-Nazi who coined the phrase "alt-right," wrote on Twitter. "Bannon will answer directly to Trump and focus on the big picture, not get lost in the weeds."
Bannon recently told Mother Jones that he sees Breitbart News as "a platform for the alt-right."
"They cover stories like you cover stories," Trump continued on Tuesday. "They're certainly a much more conservative paper, to put it mildly, than the New York Times. But Breitbart really is a news organization that has become quite successful. It's got readers, and it does cover subjects on the right, but it covers subjects on the left also. It's a pretty big thing."
Breitbart News has a vertical covering "Black Crime."
On prosecuting Hillary Clinton
Senior advisor Kellyanne Conway told MSNBC just Tuesday morning that Trump "does not wish to pursue charges" against Clinton. As president, Trump would not have had the authority to do so in the first place, although that didn't stop tens of thousands of his supporters across the country—including at the Republican National Convention—from chanting, "Lock her up! Lock her up!" over and over again.
Needless to say, Breitbart "just a publication" News is not happy.
On climate change
In 2012, Trump tweeted, "The concept of global warming was created by and for the Chinese in order to make U.S. manufacturing non-competitive." In December 2015, he told a rally in South Carolina, "Obama's talking about all of this with the global warming and…a lot of it's a hoax. It's a hoax. I mean, it's a money-making industry, okay? It's a hoax, a lot of it."
On the Trump Organization
This is not true. The Emoluments Clause is a provision of the Constitution that states "no person holding any office of profit or trust" shall "accept of any present, emolument, office or title, of any kind whatever, from any king, prince or foreign state" without the consent of Congress. Corporations or business controlled by foreign governments—many of which the Trump Organization deals with—function, as far as Constitutional law is concerned, as foreign states.
Congress has "an institutional, constitutional obligation to make sure that Trump isn't violating this clause," Fordham law professor and anti-corruption activist Zephyr Teachout recently told the Times. "You would think the responsible action — Republican, Democrat, whatever," she said, "would be for Congress to say, 'We want to make sure that there isn't a violation of this clause, and in order to do so, we need to look at the transactions to make sure they're fair market transactions instead of gifts.'"
On the free press
The president-elect threatened to sue the New York Times as recently as last month over its coverage of sexual assault claims against him.