On Thursday, the Trump administration offered up a historically draconian budget proposal that is also—surprise, surprise—"far shorter and vaguer than White House budget plans normally are," according to the Washington Post. It is a vicious, stone-cold rejection of the notion that the federal government ought to help people and work to improve society, a true test of the anti-government ethos that's been shoved into mainstream Republican doctrine by corporate interests who don't like following rules. What would happen if this many programs actually get destroyed? If air traffic control became privatized? Probably chaos, particularly for the poor, which is the only consistent policy stance this administration has offered.

The proposal, called "America First: A Budget Blueprint to Make America Great Again," was described by OMB director Mick Mulvaney as a "hard power budget," which would be hilarious if these people weren't actually running the country. The Post has a good overview of the budget (and a good graphic here; CNN also has a concise roundup), which is mostly an effort to prove to voters that Trump Follows Through and is very unlikely to pass Congress as is (although Republicans do not necessarily see the same problems as Democrats; Sen. McCain, for example, believes the budget does not include enough money for the military):
Trump's first budget proposal, which he named "America First: A Budget Blueprint to Make America Great Again," would increase defense spending by $54 billion and then offset that by stripping money from more than 18 other agencies. Some would be hit particularly hard, with reductions of more than 20 percent at the Agriculture, Labor and State departments and of more than 30 percent at the Environmental Protection Agency.

It would also propose eliminating future federal support for the National Endowment for the Arts, the National Endowment for the Humanities and the Corporation for Public Broadcasting. Within EPA alone, 50 programs and 3,200 positions would be eliminated.
Trump's budget, like many of the other things he's done thus far in office, contradicts the populist agenda he pretended to have on the campaign trail—the Post notes that he made a campaign promise to rebuild America's crumbling infrastructure, for example, but intends to cut the Transportation Department's budget by 13 percent and cut $499 million from the TIGER grant program, which funds transportation projects across the U.S.
Some highlights: over at the EPA, Trump would eliminate the Energy Star program, which identifies and promotes energy-efficient products; popular bipartisan cleanup efforts in the Chesapeake Bay and Great Lakes; international climate change programs, and more. The EPA's research capabilities would be drastically reduced, along with its ability to help cities and states fight pollution. NASA and the Department of Energy would also see a huge reduction in funding for climate-related and Earth science -related programs. The proposed State Department cuts are enormous, though not particularly surprising, since the department remains critically understaffed and appears to have been largely replaced in function by the president's massively inexperienced son-in-law; cuts include totally eliminating climate change prevention programs and pledged payments to U.N. climate change programs, and reduced funding for U.N. peacekeeping programs.
G/O Media may get a commission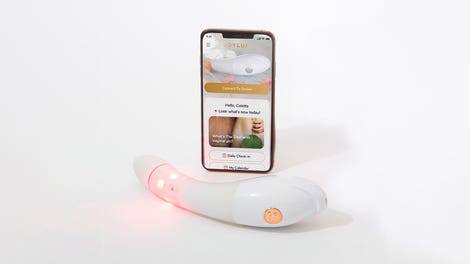 $50 Off
Joylux vFit Gold Device
Food assistance programs, antipoverty efforts, and housing assistance programs will vanish, as will beloved programs like Americorps; the National Endowment for the Arts will be totally eliminated, along with 18 other agencies that perform invaluable functions (via the Post):

African Development Foundation

Appalachian Regional Commission

Chemical Safety Board

Corporation for National and Community Service

Corporation for Public Broadcasting

Delta Regional Authority

Denali Commission

Institute of Museum and Library Services

Inter-American Foundation

U.S. Trade and Development Agency

Legal Services Corporation

National Endowment for the Arts

National Endowment for the Humanities

Neighborhood Reinvestment Corporation

Northern Border Regional Commission

Overseas Private Investment Corporation

U.S. Institute of Peace

U.S. Interagency Council on Homelessness

Woodrow Wilson International Center for Scholars
Conversely, while counterterrorism funding would get cut at the Department of Homeland Security, the department would get a $2.8 billion boost to pay for: a border wall that won't do anything, 500 border patrol agents to man it, 20 lawyers to obtain land for the border wall, and 1,000 new Immigration and Customs Enforcement agents to keep people out of a shitty, terrifying, disease-ridden country that no one is going to want to come to pretty soon anyway.
Maybe that was the idea?