The Washington Post is reporting that Donald Trump shared highly classified information with Russian ambassador Sergey Kislyak and Russian foreign minister Sergei Lavrov in a meeting at the White House. According to current and former US officials, "Trump's disclosures jeopardized a critical source of intelligence on the Islamic State." This is... not great.
The Post continues:
The information Trump relayed had been provided by a U.S. partner through an intelligence-sharing arrangement considered so sensitive that details have been withheld from allies and tightly restricted even within the U.S. government, officials said.

The partner had not given the United States permission to share the material with Russia, and officials said that Trump's decision to do so risks cooperation from an ally that has access to the inner workings of the Islamic State. After Trump's meeting, senior White House officials took steps to contain the damage, placing calls to the CIA and National Security Agency.

"This is code-word information," said a U.S. official familiar with the matter, using terminology that refers to one of the highest classification levels used by American spy agencies. Trump "revealed more information to the Russian ambassador than we have shared with our own allies."
A reminder that while Russia and the US both condemn ISIS, they are on opposing sides in the Syrian civil war, in which Russia supports President Bashar al-Assad. Oh and also, evidence strongly suggests that Russia interfered with the US election. Also also, the meeting was open to Russia news agency Tass but closed to American press and took place one day after Trump fired former FBI Director James Comey, who was investigating the Trump campaign's ties to Russia. ALSO!!! Kislyak is the official that former National Security Advisor Michael Flynn (who was forced to resign) and Attorney General Jeff Sessions (who recused himself from the Russia investigation but still recommended firing Comey...) lied about talking to. Also? Fuck these guys, too.
With that in mind, here's a summary of the intel Trump shared with Russia, via the Post:
Trump went on to discuss aspects of the threat that the United States only learned through the espionage capabilities of a key partner. He did not reveal the specific intelligence gathering method, but described how the Islamic State was pursuing elements of a specific plot and how much harm such an attack could cause under varying circumstances. Most alarmingly, officials said, Trump revealed the city in the Islamic State's territory where the U.S. intelligence partner detected the threat.
G/O Media may get a commission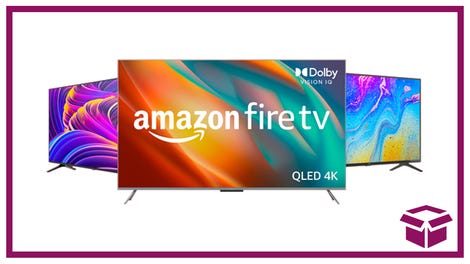 Ooh. stunning.
New Amazon Fire TVs
One US official told BuzzFeed that "it's far worse than what has already been reported."