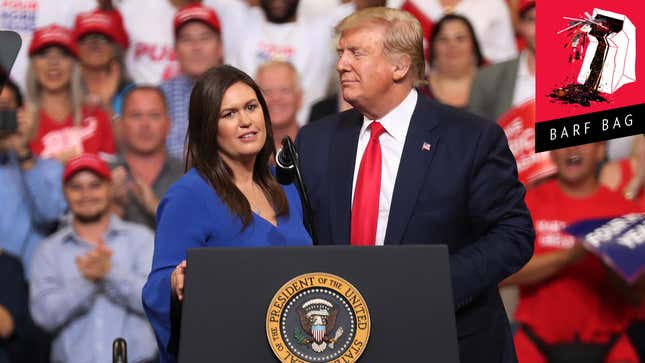 Former White House Press Secretary Sarah Huckabee Sanders has a memoir coming out soon featuring a (predictably) glowing portrayal of President Trump and her tenure as one of his most trusted liars. But it reportedly includes an anecdote that any reasonable woman would find disturbing. According to The Guardian, Sanders' memoir Speaking For Myself retells an incident in which Trump joked about Sanders "taking one for the team" after North Korean leader Kim Jong-un winked at her during a summit in Singapore in 2018.
From The Guardian:
Then, Sanders writes, she looked up "to notice Kim staring at me. We made direct eye contact and Kim nodded and appeared to wink at me. I was stunned. I quickly looked down and continued taking notes.

"… All I could think was, 'What just happened? Surely Kim Jong-un did not just mark me!?'"

"Kim Jong-un hit on you!" Trump said. "He did! He fucking hit on you!"

Sanders, a devout Christian who discusses her faith throughout her book, does not spell out the presidential expletive. But she does write that she told Trump that was not what she meant, and said: "Sir, please stop."

Kelly backed up the president and Trump joked: "Well, Sarah, that settles it. You're going to North Korea and taking one for the team! Your husband and kids will miss you, but you'll be a hero to your country!"

Trump and Kelly, Sanders writes, "howled with laughter" as the car drove on.
It's understandable that Sanders would be squeamish about her boss essentially talking about sending her out on a mission to fuck the leader of North Korea for God and country. It's less understandable that despite this, and despite her distaste for locker room talk, that she happily sings the praises of a man who allegedly can't keep his hands to himself and probably wouldn't know a bible if it slapped him across the face.
But the Huckabee family doesn't have the greatest track record for making much sense, so...
---
House Speaker Nancy Pelosi is going for the "bitch set me up" defense after being roundly criticized for getting her hair done inside a San Francisco hair salon, which is prohibited by the city's covid-19 regulations. The San Francisco Chronicle reports that Pelosi refuses to apologize after video footage of her visit was released by the salon's irate owner.
"I take responsibility for trusting the word of the neighborhood salon that I've been to...many times…It was a setup, and I take responsibility for falling for a setup," Pelosi said. "I think that this salon owes me an apology, for setting me up."
Okay, Marion Barry.
Okay, sure, depending on what kind of mask Pelosi was wearing, that makes sense. But at the end of the day, this just could have been so easily avoided that it's hard to feel too bad for Pelosi. Is it worth harping over for days on end like Fox News likely will? No. But come on, Nancy, this ain't it.
---
A good sign (heh): A ton of people are buying Joe Biden/Kamala Harris yard signs right now. So many, in fact, that they have to order a whole new fleet of 'em. [New York Times]
Speaking of Biden, he's out with a new ad yelling at rioters or something:
We will officially suffer through four debates this fall. Frankly, we should have more than one VP debate, right?