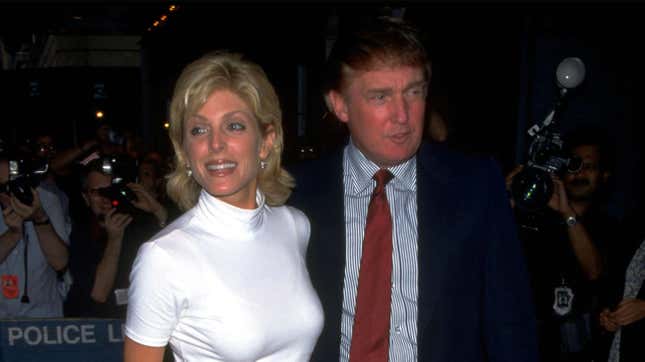 A new report from Vanity Fair reveals that Trump and Marla Maples's prenup negotiations were, predictably, a nightmare, and that he all but forced her into accepting an agreement she didn't think would fairly compensate her in the event of their divorce. He accomplished this, according to Vanity Fair, by threatening to back out of their engagement, even on the day they were married.

The new report, which quotes an unnamed source who shared the prenup agreement with Vanity Fair, states that Trump likely lied about how much money he had at the time they were negotiating the prenup by fudging how much his real estate properties were worth. And despite saying at the time that he was worth $1.7 billion, he only offered to pay Maples $1 million if they got divorced.
Marla wanted $25 million in the event of divorce—but according to the source, Trump knew he could get away with offering Maples so much less because he knew she was eager to get hitched:
Ultimately, Maples didn't have much of a choice if she wanted to get married—which she desperately did. When she traveled, she brought along her wedding dress, so that she would be ready at a moment's notice if Trump said he wanted to get married, said the source. Maples declined to comment.
Marla eventually agreed to the prenup, according to Vanity Fair, because Trump managed to hold out for so long:
Maples tried to hold out for better terms, but Trump utterly refused to budge, the source told me. He held the line up their wedding day at the Plaza, said the source. "Marla was under duress. Donald's position was: without the prenup he wasn't going to get married." With 24 hours to go before a thousand guests arrived, Maples caved.
The prenup was only meant to last five years, after which the couple would obviously just rip it up and let themselves fall into the metaphorical safety net of their eternal love for each other. But they broke up after four years, allegedly over a scandalous rumor in the National Enquirer that Maples had a wild night out with one of Trump's bodyguards:
Ironically, it was triggered by a May 1996 National Enquirer cover. "Shock for Trump! MARLA CAUGHT WITH HUNK" blared the headline for an article revealing how Palm Beach police caught Maples during a "frolic" on the beach at 4 a.m. with a Trump bodyguard—an account that both Trump and Maples denied. Trump went nuclear over the article, said the source. But he didn't want to divorce Maples right away, because it would make him look like he'd been cheated on. "He bided his time," the source said.
And when the marriage finally shit the bed, Trump reportedly did her worse than Berger did Carrie by breaking up with her via FedEx:

Trump and Maples's relationship was at a crossroads after Trump and Ivana divorced in 1992. At one point, he broke up with Maples by FedEx-ing her a letter, the source said.
Maples has reportedly considered writing a book about their tumultuous marriage, but was scared out of it after meeting with Trump and Ivanka. Never mind that, though—we want the receipts!